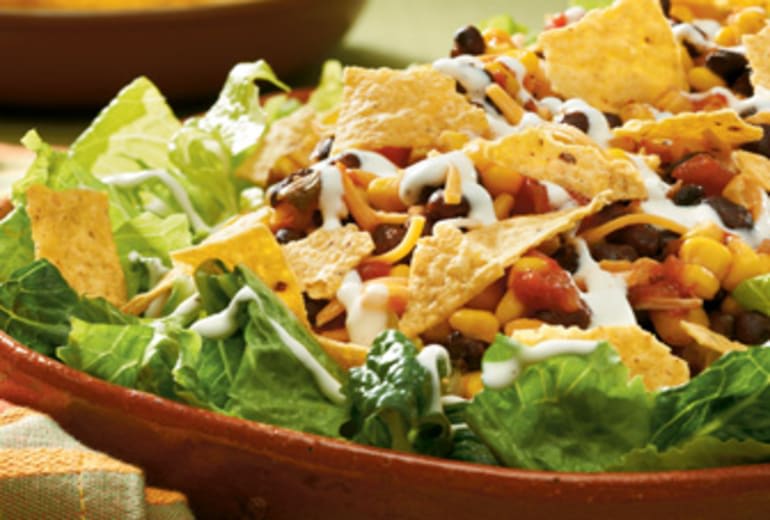 10-Minute Southwest Layered Salad
Ingredients
6 cups torn romaine lettuce
1 can (15 oz.) black beans, rinsed
1 can (11 oz.) Green Giant® corn, drained
1/2 cup TACO BELL® Thick & Chunky Salsa
1/2 cup KRAFT™ Natural Three Cheese Crumbles
1/2 cup KRAFT™ Classic Ranch Dressing
1 cup broken tortilla chips
Nutrition
Serving Size: 4 servings, 1-1/2 cups each AMOUNT PER SERVING Calories 350 % Daily Value: Total Fat 18g; Saturated Fat 4.5g; Cholesterol 20mg; Sodium 900mg; Carbohydrate 38g, Dietary fiber 9g; Sugars 6g, Protein 13g; Vitamin A 80% DV, Vitamin C 6% DV, Calcium 15% DV, Iron 15% DV
*Nutritional information is estimate based on the ingredients and cooking instructions as described in each recipe and is intended to be used for informational purposed only. Please note that nutrition details may vary based on methods of preparation, origin and freshness of ingredients used.
Preparation
Cover platter with lettuce.
Top with next 4 ingredients.
Drizzle with dressing; top with chips.
Simple for You, Easy for Them.