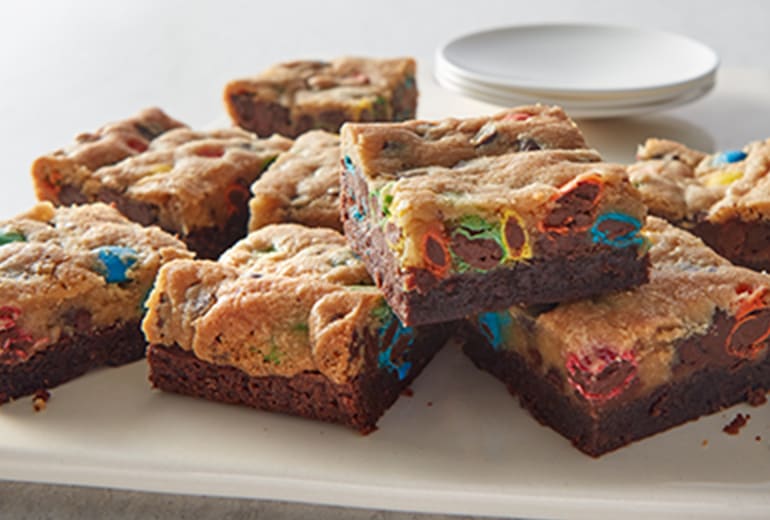 3-Ingredient M&M's™ Brookie Bars
Simple and sweet, these brookie (brownie + cookie) bars are as delightful to eat as they are to make. Our favorite new baking hack brings these bars to life in just three ingredients, and we're officially obsessed!
Ingredients
1 package (16 oz) Pillsbury™ Place & Bake™ refrigerated chocolate fudge brownies
1 package (16 oz) Pillsbury™ Ready To Bake™ refrigerated chocolate chip cookies
1/2 cup M&M's™ candy-coated chocolate candies
Nutrition
1 Serving: Calories 270 (Calories from Fat 100), Total Fat 11g (Saturated Fat 5g, Trans Fat 0g), Cholesterol 15mg, Sodium 150mg, Potassium 830mg, Total Carbohydrate 40g (Dietary Fiber 1g, Sugars 27g), Protein 2g
% Daily Value*: Vitamin A 0%, Vitamin C 0%, Calcium 0%, Iron 6%
Exchanges: 1 Starch; 1 1/2 Other Carbohydrate; 2 Fat
*Percent Daily Values are based on a 2,000 calorie diet.
Preparation
Heat oven to 350°F. Line 9-inch square pan with foil, allowing foil to hang over sides of pan for easy removal after baking. Spray with cooking spray.
Press brownies evenly into bottom of pan. Bake 16 to 20 minutes or until brownies are set around edges and toothpick inserted in center of brownies comes out almost clean. Cool in pan 10 minutes.
Crumble cookie dough into medium bowl; mix in chocolate candies. Drop mixture by spoonfuls onto top of baked brownie layer. With back of spoon or offset metal spatula, gently press cookie dough together to form even layer.
Bake 22 to 26 minutes or until cookie layer is set and golden brown. (Cover with foil the last 5 minutes if necessary, to prevent overbrowning.) Cool completely, about 2 hours. Remove bars from pan; cut into 4 rows by 4 rows.
Recipe Tips
Line your baking pan with foil for easy removal of the bars for cutting.
Customize the bars by using colored M&M's™ candies that match the holiday.
Swap the Pillsbury™ refrigerated cookies or brownies flavors for your own favorites, such as sugar cookies, Reese's™ peanut butter cookies, peanut butter brownies or marshmallow brownies. Note that bake time may vary.
Simple for You, Easy for Them.