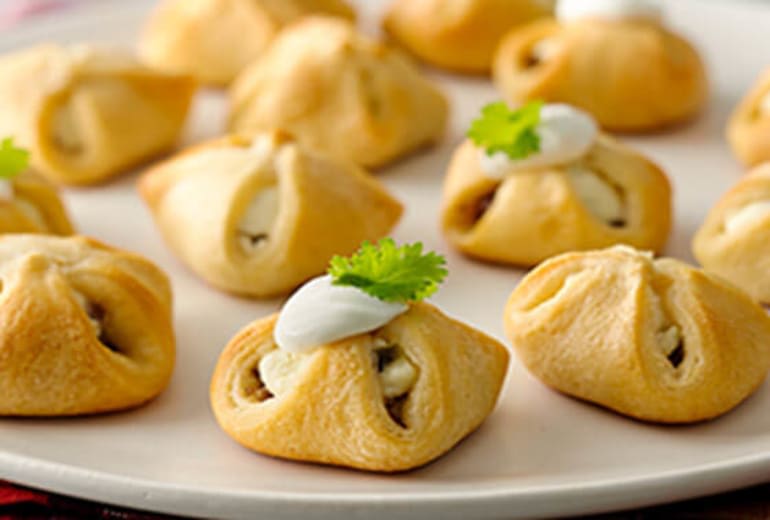 3-Ingredient Sausage-Cream Cheese Crescent Bundles
Each little bite is packed with flavor in these 3-ingredient sausage appetizers.
Ingredients
½ lb bulk hot pork sausage
½ cup spicy jalapeño cream cheese spread (from 8-oz container)
1 can (8 oz) Pillsbury™ refrigerated crescent dough sheet or 1 can (8 oz) Pillsbury™ refrigerated crescent rolls
Nutrition
1 Serving: Calories 60 (Calories from Fat 35); Total Fat 3 1/2g; (Saturated Fat 1 1/2g, Trans Fat 0g); Cholesterol 10mg; Sodium 135mg; Potassium 20mg; Total Carbohydrate 5g; (Dietary Fiber 0g); Sugars 1g; Protein 2g
% Daily Value: Vitamin A 0%; Vitamin C 0%; Calcium 0%; Iron 0%
Exchanges:1/2 Starch; 0 Fruit; 0 Other Carbohydrate; 0 Skim Milk; 0 Low-Fat Milk; 0 Milk; 0 Vegetable; 0 Very Lean Meat; 0 Lean Meat; 0 High-Fat Meat; 1/2 Fat;
*Percent Daily Values are based on a 2,000 calorie diet.
Preparation
Heat oven to 375°F. In 10-inch nonstick skillet, cook sausage over medium-high heat 4 to 5 minutes, stirring frequently, until no longer pink; drain.
Unroll dough on work surface. Press into 12x9-inch rectangle. If using crescent roll dough, firmly press perforations to seal. With pizza cutter or sharp knife, cut into 6 rows by 4 rows to make 24 squares.
Place about 1 rounded teaspoon sausage on center of each dough square. Top with about 1 teaspoon cream cheese. Bring 4 corners together to overlap slightly in center at top of each bundle. Twist and pinch to seal, leaving small gaps between seams. Place on ungreased cookie sheets.
Bake 10 to 14 minutes or until golden brown. Serve warm.
Recipe Tips
Garnish these sausage bites with a dollop of sour cream and a cilantro sprig.
Too spicy? Substitute plain cream cheese or garden vegetable cream cheese spread for the spicy jalapeño cream cheese spread.
Simple for You, Easy for Them.