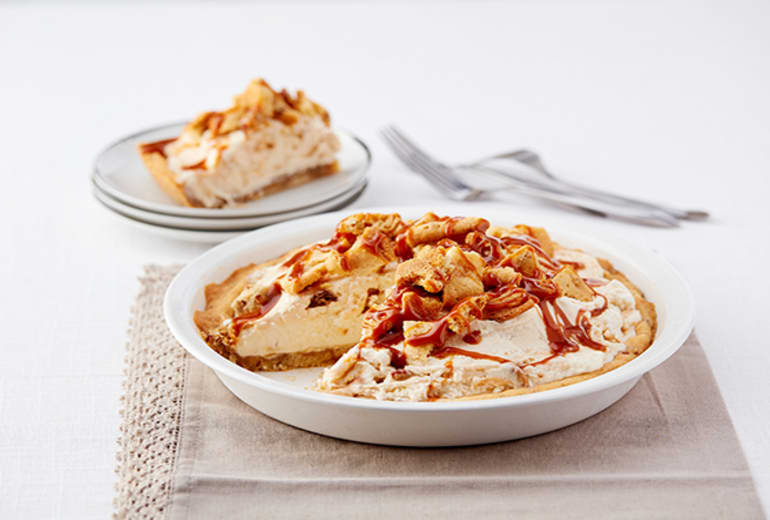 Apple Ice Cream Cookie Pie
Caramel apple lovers will dig into this toffee pecan cookie crust pie filled with deep dish apple ice cream, cookies and caramel.
Ingredients
1 roll (16.5 oz) Pillsbury™ refrigerated sugar cookies
½ cup chopped pecans
1/3 cup toffee bits (from 8-oz package)
4 cups caramel toffee pecan ice cream, slightly softened
2 tablespoons caramel topping
Nutrition
Serving Size: 1 Serving
Calories 670 (Calories from Fat 340); Total Fat 38g; (Saturated Fat 18g, Trans Fat 0g); Cholesterol 130mg; Sodium 270mg; Total Carbohydrate 75g; (Dietary Fiber 0g, Sugars 42g); Protein 6g
% Daily Value: Vitamin A 15%; Vitamin C 0%; Calcium 10%; Iron 0%
Exchanges: 2 Starch; 0 Fruit; 3 Other Carbohydrate; 0 Skim Milk; 0 Low-Fat Milk; 0 Milk; 0 Vegetable; 0 Very Lean Meat; 0 Lean Meat; 0 High-Fat Meat; 7 1/2 Fat;
*Percent Daily Values are based on a 2,000 calorie diet.
Preparation
Heat oven to 350°F. Lightly spray 9-inch pie plate and cookie sheet with cooking spray.
In medium bowl, mix cookie dough, pecans and toffee bits with spoon or hands until well mixed. Press 1 1/2 cups of the cookie dough mixture in bottom and up side of pie plate to form crust. Reserve remaining cookie dough mixture.
Bake 15 to 18 minutes or until golden brown. Remove from oven; immediately press center of crust with bottom of measuring cup or glass to form base for ice cream. Cool completely, 1 to 1 1/2 hours.
Meanwhile, shape remaining cookie dough mixture into 8 (1 1/4-inch) balls. Place 2 inches apart on cookie sheet. Bake 8 to 12 minutes or until golden brown. Cool completely, about 30 minutes. Coarsely chop 6 of the cookies; set aside. Use remaining cookies as desired.
In small microwavable bowl, microwave caramel topping uncovered on High 10 to 15 seconds or until thin enough to drizzle.
Spoon ice cream into cookie crust; spread evenly. Top with chopped cookies. Drizzle with caramel topping. Freeze 3 to 4 hours or until firm.
Recipe Tips
Store this pie up to 1 week in freezer. To make cutting pie easier, remove from freezer 10 to 15 minutes before serving.Tab: Nutrition
Simple for You, Easy for Them.