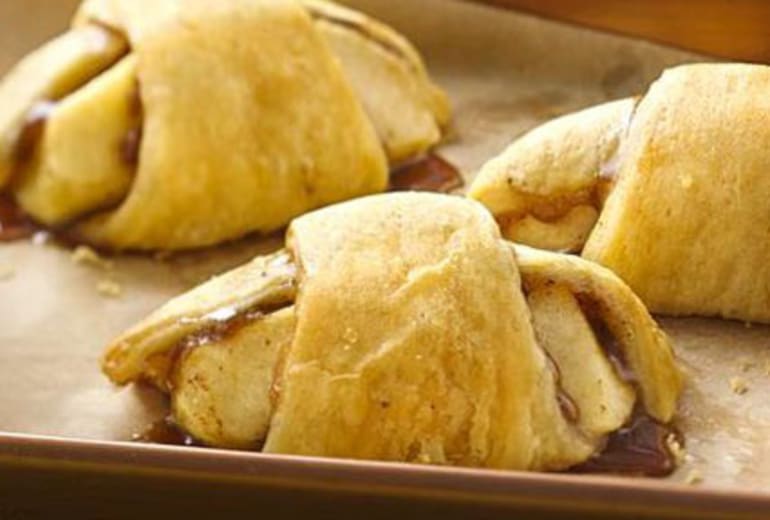 Apple Pie Crescents
Ingredients
1 small Granny Smith apple, peeled, cored, cut into 8 (1/2-inch) slices
3 tablespoons butter, melted
1 can (8 oz) Pillsbury™ refrigerated crescent dinner rolls
1/3 cup packed brown sugar
1 teaspoon apple pie spice
Nutrition
Calories 190 Calories from Fat 90 % Daily Value: Total Fat 10g 16% Saturated Fat 5g 26% Trans Fat 0g 0% Cholesterol 10mg 4% Sodium 260mg 11% Total Carbohydrate 22g 7% Dietary Fiber 0g 0% Sugars 11g 11% Protein 1g 1% % Daily Value*: Vitamin A 2% Vitamin C 0% Calcium 0% Iron 2% Exchanges: 1/2 Starch; 0 Fruit; 1 Other Carbohydrate; 0 Skim Milk; 0 Low-Fat Milk; 0 Milk; 0 Vegetable; 0 Very Lean Meat; 0 Lean Meat; 0 High-Fat Meat; 2 Fat; Carbohydrate Choice 1 1/2
*Percent Daily Values are based on a 2,000 calorie diet.
Preparation
Heat oven to 375°F. Line cookie sheet with cooking parchment paper, or grease cookie sheet. Set aside.
In small bowl, toss apple slices in 1 tablespoon of the melted butter; set aside. Separate dough into 8 triangles.
In small bowl, mix brown sugar and apple pie spice. Divide mixture evenly among triangles. Top each triangle with apple slice. Starting at short side of each triangle, wrap dough around apple. Place on cookie sheet. Brush with remaining 2 tablespoons melted butter.
Bake 10 to 12 minutes or until crescents are deep golden brown and apples are softened. Cool 5 minutes before serving.
Simple for You, Easy for Them.