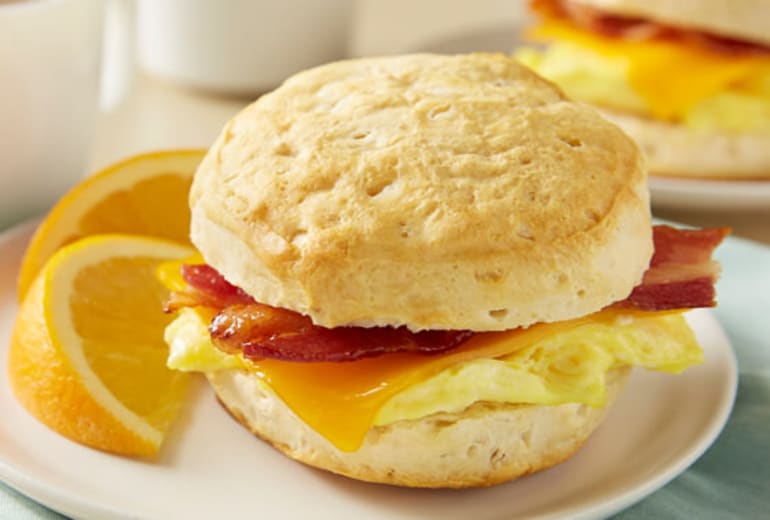 Bacon and Egg Breakfast Biscuits
Cooking breakfast for two couldn't be any easier with these fluffy biscuits filled with eggs, bacon and cheese.
Skip to Recipe Video
Ingredients
1 can (10.2 oz) Pillsbury™ Grands!™ Southern Homestyle refrigerated Buttermilk biscuits (5 biscuits)
1 tablespoon butter
3 eggs, beaten
2 slices (3/4 oz each) American or Cheddar cheese
2 slices cooked bacon, cut in half
Nutrition
1 Sandwich: Calories 460 (Calories from Fat 270); Total Fat 30g (Saturated Fat 15g, Trans Fat
0g), Cholesterol 325mg; Sodium 1100mg; Total Carbohydrate 28g (Dietary Fiber 0g, Sugars
5g); Protein 19g
% Daily Value: Vitamin A 15%; Vitamin C 0%; Calcium 25%; Iron 10%;
Exchanges: 1/2 Starch, 1 1/2 Other Carbohydrate, 2 Medium-Fat Meat, 1/2 High-Fat Meat, 3 Fat
Carbohydrate Choices: 2.00
*Percent Daily Values are based on a 2,000 calorie diet.
Preparation
Heat oven to 375° F. Bake biscuits as directed on can.
In 8-inch nonstick skillet, melt butter over medium heat. Add eggs; cook 2 to 3 minutes or until egg mixture is set, stirring and turning occasionally.
Split 2 biscuits in half (reserve 3 biscuits for another use). Spoon eggs evenly onto bottom half of each biscuit. Top each biscuit with 1 cheese slice, 2 pieces of bacon and biscuit top. Serve immediately.
Recipe Tips
Use the remaining 3 baked biscuits in one of our favorite Savory Biscuit Chicken Pot Pie recipes for a quick skillet dinner for 2.
Precooked bacon can be used for cooked bacon in this recipe.
Pillsbury™ Grands!™ Flaky Layers refrigerated Buttermilk biscuits (5 biscuits) can be used in this recipe. Bake biscuits at 350°F as directed on can. Make recipe as directed.
Recipe Video
Bacon and Egg Breakfast Biscuits
Simple for You, Easy for Them.