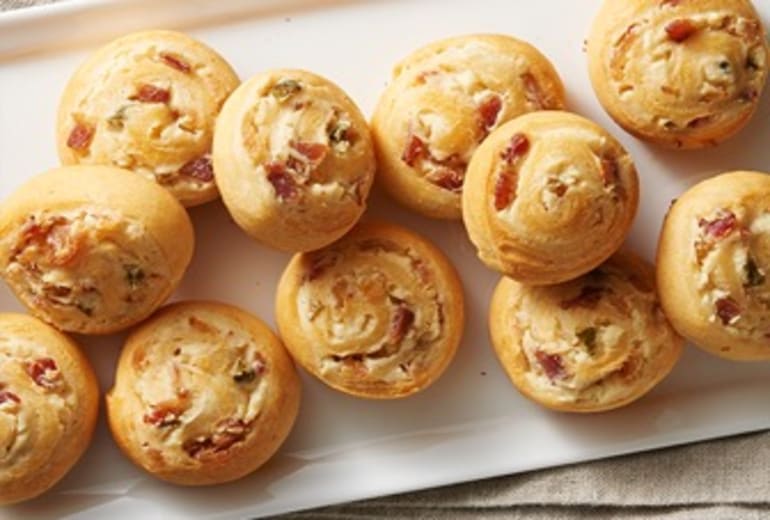 Bacon-Jalapeno Popper Pinwheels
Get ready to roll these easy party appetizers. Then get ready to receive lots of compliments.
Ingredients
6 oz Philadelphia® jalapeño cream cheese spread (3/4 cup from an 8-oz container)
1/3 cup chopped cooked bacon
1 can (8 oz) Pillsbury™ refrigerated crescent dinner rolls or 1 can (8 oz) Pillsbury™ refrigerated crescent dough sheet 
Nutrition
1 Serving: Calories 60 (Calories from Fat 35); Total Fat 4g; (Saturated Fat 1 1/2g, Trans Fat 0g); Cholesterol 5mg; Sodium 115mg; Potassium 15mg; Total Carbohydrate 5g; (Dietary Fiber 0g); Sugars 2g; Protein 1g
% Daily Value: Vitamin A 0%; Vitamin C 0%; Calcium 0%; Iron 0%
Exchanges: 0 Starch; 0 Fruit; 1/2 Other Carbohydrate; 0 Skim Milk; 0 Low-Fat Milk; 0 Milk; 0 Vegetable; 0 Very Lean Meat; 0 Lean Meat; 0 High-Fat Meat; 1 Fat;
*Percent Daily Values are based on a 2,000 calorie diet.
Preparation
Heat oven to 375°F. In small bowl, mix cream cheese and bacon until well blended; set aside.
Unroll crescent dough; separate into 4 (4x6-inch) rectangles, pressing perforations to seal. (If using dough sheet, unroll and cut into 4 rectangles.) Spread cream cheese mixture on each of the dough rectangles to within 1/2 inch of edges.
Starting with 1 short side, roll up rectangle; press seam to seal. Cut roll into 6 slices, and place slices cut side down on ungreased large cookie sheet. Repeat with remaining dough rectangles.
Bake 15 to 17 minutes or until light golden brown. Immediately remove from cookie sheet. Serve warm.
Recipe Tips
Cook bacon ahead to save time, or buy precooked bacon, which can be found in the refrigerated section of the grocery store.
Jalapeño cream cheese spread can be found in the cream cheese section of the grocery store. If you have trouble finding it, substitute 6 oz regular cream cheese mixed with 2 teaspoons seeded and diced jalapeños.
Simple for You, Easy for Them.