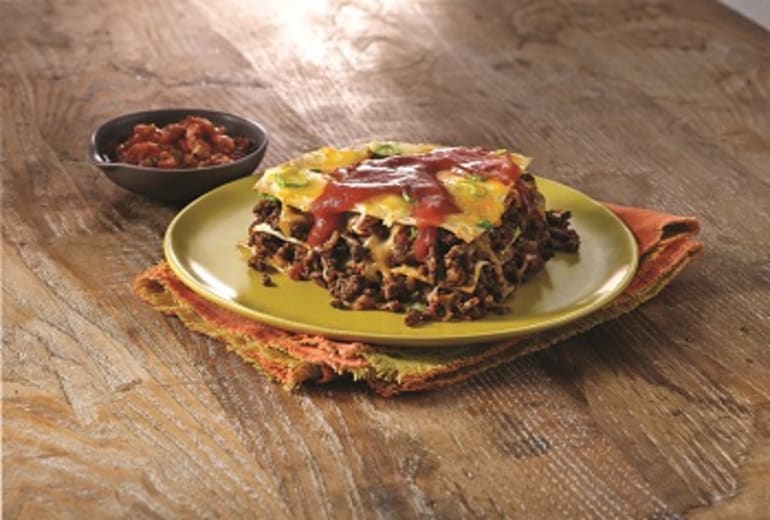 Baked Quesadilla
Ingredients
1/2 cup green onions, coarsely chopped
1 1/4 lb lean ground beef, 7% fat
3/4 cup Deli mild salsa
1 Old El Paso® Soft Taco Dinner Kit (soft flour tortillas, seasoning, taco sauce)
12 oz KRAFT™ shredded Mexican-blend cheese (3 cups)
Aluminum foil
Nutrition
CALORIES (per 1/6 recipe) 560kcal; FAT 16g; SAT FAT 0g; TRANS FAT 0g; CHOL 110mg; SODIUM 1430mg; CARB 35g; FIBER 2g; SUGARS 3g; PROTEIN 36g; VIT A 20%; VIT C 4%; CALC 45%; IRON 25%
Quick and delicious this baked quesadilla recipe will become a family favorite in no time.
Preparation
Preheat oven to 400°F. Chop green onions; set aside.
Preheat large sauté pan on medium 2–3 minutes. Place ground beef in pan; brown 3–4 minutes, stirring to crumble meat. Stir in salsa and seasoning (from kit); cook 1–2 more minutes or until no pink remains.
Place 3 tortillas in 13- x 9-inch baking dish. Layer one-half of the beef mixture and 1 cup cheese in bottom of dish; sprinkle with 2 tablespoons green onions. Repeat.
Top with 3 tortillas; sprinkle with remaining 1/4 cup green onions and 1 cup cheese. Cover with foil and bake 20–25 minutes or until bubbly. Drizzle with taco sauce, if desired. Serve.
Simple for You, Easy for Them.