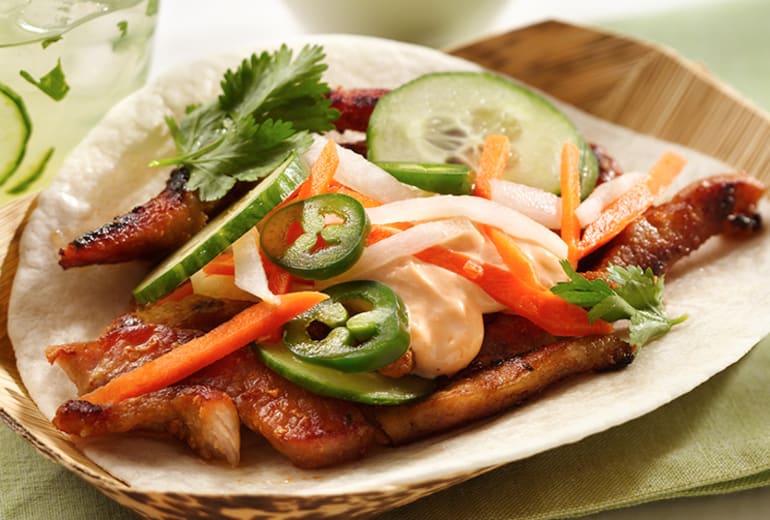 Banh Mi Pork Tacos
Spicy, honey-glazed pork is wrapped in warm tortillas, topped with carrot daikon slaw, sriracha mayo and fresh toppings like jalapenos, cilantro and cucumber slices.
Ingredients
Pork and Glaze

1 tablespoon vegetable oil
1 lb thinly sliced pork cutlets, cut into thin strips
1 teaspoon salt
1 teaspoon Sriracha sauce
2 tablespoons honey
1 teaspoon white vinegar

Plicked Slaw

1 cup julienne-cut carrots
1 cup julienne-cut daikon radish
1/4 cup white vinegar
1 tablespoon honey

Sriracha Mayonnaise

1/2 cup mayonnaise
2 teaspoons Sriracha sauce

Tortillas and Toppings

8 Old El Paso™ flour tortillas for soft tacos & fajitas (6 inch), heated as directed on package
2 jalapeño chiles, thinly sliced
1/2 bunch fresh cilantro sprigs
1/4 English (seedless) cucumber, thinly sliced (about 1/2 cup)
Nutrition
Calories 330 (Calories from Fat 180), Total Fat 20g, (Saturated Fat 4g, Trans Fat 1g), Cholesterol 45mg Sodium 630mg, Total Carbohydrate 23g, (Dietary Fiber 1g, Sugars 8g), Protein15g
% Daily Value*: Vitamin A 60%; Vitamin C 10%; Calcium 4%; Iron 6%
Exchanges: 1 1/2 Starch; 0 Fruit; 0 Other Carbohydrate; 0 Skim Milk; 0 Low-Fat Milk; 0 Milk; 1/2 Vegetable; 0 Very Lean Meat; 1 Lean Meat; 0 High-Fat Meat; 3 Fat
Carbohydrate Choices: 1 1/2
*Percent Daily Values are based on a 2,000 calorie diet.
Preparation
In 10-inch nonstick skillet, heat oil over medium-high heat. Season pork with salt; cook pork in oil until well caramelized and cooked through. Stir together 1 teaspoon Sriracha sauce, 2 tablespoons honey and 1 teaspoon vinegar. Drizzle over pork in skillet, stirring occasionally, until glaze is absorbed and caramelized on pork. Remove from heat; keep warm.
In medium bowl, mix Pickled Slaw ingredients; set aside.
In small bowl, mix Sriracha Mayonnaise ingredients. Divide pork among tortillas, and top each with slaw, using slotted spoon. Top with mayonnaise, chiles, cilantro and cucumber.
Recipe Tips
Look for pork cutlets in the meat/butcher shop section of the supermarket; they typically are thinly sliced, tenderized pieces of loin meat. If you have trouble locating, simply buy a small piece of pork loin, slice thinly, and pound with a meat mallet until thin and tenderized.
Simple for You, Easy for Them.