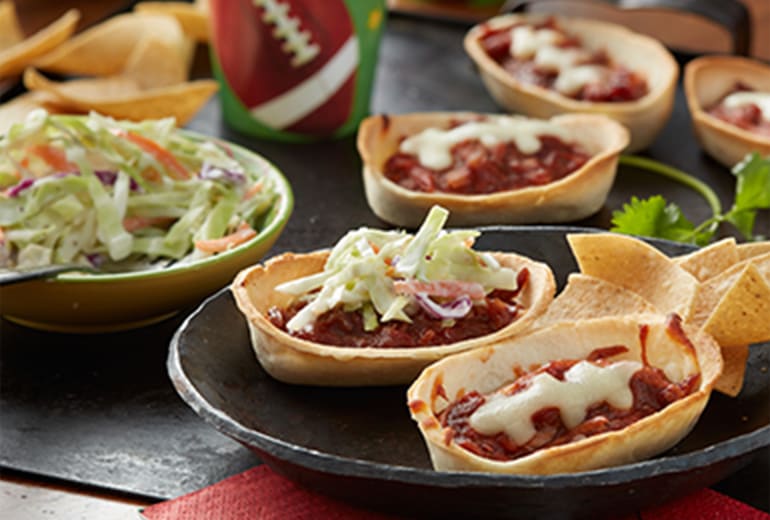 Barbecue Pork Football Bowls
No matter what team you're rooting for, you can't lose with these cheesy barbecue football bowls!
Ingredients
1 package (12 count) Old El Paso™ Taco Bowls™ mini soft flour tortillas
1 tbsp butter, melted
1 cup shredded mozzarella cheese (4 oz)
1 lb refrigerated pulled pork with sauce
1 stick (1 oz) mozzarella string cheese
1 package (14 oz) coleslaw mix
1 cup coleslaw dressing (from 15-oz jar)
Nutrition
1 Serving: Calories 190 (Calories from Fat 90), Total Fat 10g (Saturated Fat 3 1/2g, Trans Fat 0g), Cholesterol 30mg, Sodium 300mg, Total Carbohydrate 14g (Dietary Fiber 1g, Sugars 4g), Protein10g
% Daily Value*: Vitamin A 20%, Vitamin C 15%, Calcium 10%, Iron 4%
Exchanges: 1 Other Carbohydrate; 1 1/2 Lean Meat; 1 Fat; Carbohydrate Choices: 1
*Percent Daily Values are based on a 2,000 calorie diet
Preparation
Heat oven to 350°F. Line cookie sheet with foil or cooking parchment paper. Brush outsides of bowls with melted butter.
Divide shredded mozzarella cheese evenly among bowls. Spoon pork mixture evenly among bowls; smooth tops.
Cut string cheese into 12 long strands. Cut each strand in half, then cut half of the pieces in thirds. Top each pork-filled taco bowl with three small pieces of cheese, then place one long piece of cheese perpendicular to the three pieces to create laces. Bake 13 to 15 minutes or until filling is hot and cheese is melted.
Meanwhile, in large bowl, mix coleslaw mix and dressing; toss to coat. Serve slaw with warm football bowls.
Recipe Tips
Want a little smoky flavor? Use a smoked mozzarella cheese stick in place of the regular cheese stick.
Coleslaw mix is available in many different package sizes. If your package is less than 14 oz, add just enough coleslaw dressing to coat the coleslaw so it won't become soggy.
Simple for You, Easy for Them.