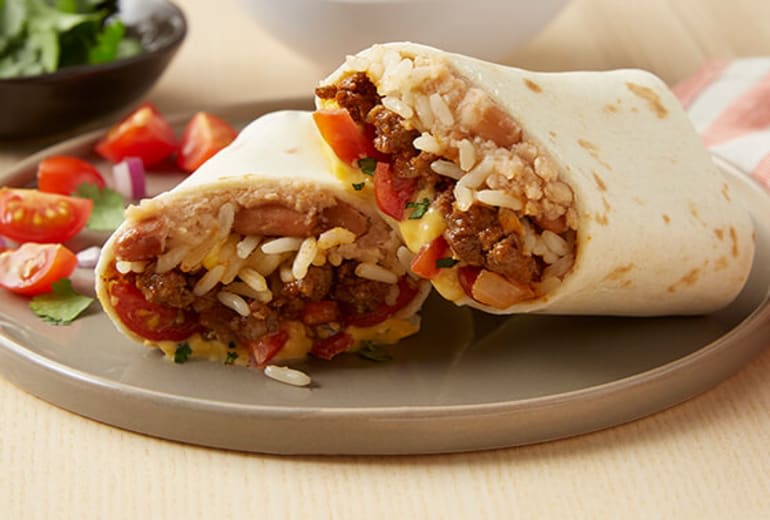 Beef and Queso Burritos
These easy weeknight burritos get cheesy with a simple warm queso sauce over the beef, with refried beans, rice and fresh tomato.
Ingredients
1 lb ground beef (at least 80% lean)
1 cup chopped onions
1 package (1 oz) Old El Paso™ original taco seasoning mix
2/3 cup water
½ cup Old El Paso™ original refried beans (from 16-oz can)
4 oz prepared cheese product, cut in 1/2-inch cubes (from 16-oz loaf)
1 tablespoon milk
1 package (11 oz) Old El Paso™ flour tortillas for burritos (8 inch)
1 cup white rice, cooked
½ cup diced tomato
2 tablespoons finely chopped fresh cilantro
Nutrition
1 Burrito: Calories 330 (Calories from Fat 120); Total Fat 14g (Saturated Fat 6g, Trans Fat 0g); Cholesterol 45mg; Sodium 840mg; Total Carbohydrate 33g (Dietary Fiber 2g, Sugars 3g); Protein 17g
% Daily Value: Vitamin A 6%; Vitamin C 2%; Calcium 15%; Iron 20%;
Exchanges: 1 1/2 Starch, 1/2 Other Carbohydrate, 2 Medium-Fat Meat, 1/2 Fat
Carbohydrate Choice: 2
Preparation
In 10-inch skillet, cook beef and onions over medium-high heat 7 to 9 minutes, stirring occasionally, until beef is brown; drain. Stir in taco seasoning mix and water. Cook over medium heat 2 to 3 minutes or until slightly thickened.
Meanwhile, spoon beans into small microwavable bowl; cover loosely with plastic wrap. Microwave on High 1 minute; stir, then microwave in 15-second increments until heated through.
In small microwavable bowl, mix cheese and milk. Microwave uncovered on High 1 minute, stirring after 30 seconds. Continue microwaving in 15-second increments, until cheese melts and mixture is smooth.
Heat tortillas as directed on package. To assemble, spread 1 tablespoon beans in center of each tortilla. Top with 2 tablespoons rice and about 1/3 cup beef mixture. Top beef with 1 tablespoon diced tomato, 1 tablespoon warm cheese mixture, and sprinkle with 3/4 teaspoon cilantro. Fold bottom of each tortilla 1 inch over filling. Fold sides in, overlapping to enclose filling. Fold top over sides.
Recipe Tips
To save time, use frozen rice; heat as directed on package.
Serve with sour cream or your favorite salsa.
These burritos pair nicely with Dos Equis™ lager especial beer
Simple for You, Easy for Them.