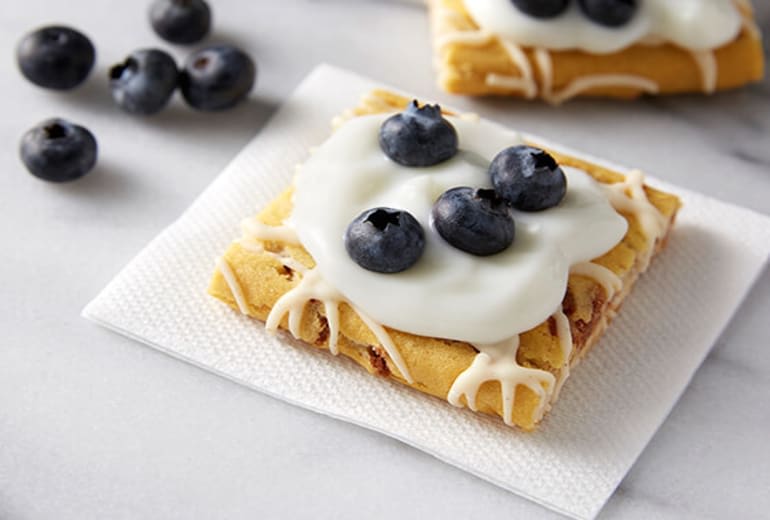 Blueberry Coffee Cake
Dress up your favorite Fiber One™ baked cinnamon coffee cake with a simple hack by topping with Yoplait™ Original French vanilla yogurt and fresh blueberries to create your very own version of blueberry coffee cake!
Ingredients
2 bars (0.89 oz each) Fiber One™ 90 calorie cinnamon coffee cake
2 tablespoons Yoplait™ Original French vanilla yogurt (from 6-oz container)
2 tablespoons blueberries
Nutrition
1 Snack Hack: Calories 130 (Calories from Fat 30); Total Fat 4g (Saturated Fat 2g, Trans Fat 0g),
Cholesterol 0mg; Sodium 100mg; Total Carbohydrate 24g (Dietary Fiber 5g); Sugars 12g); Protein 1g
% Daily Value: Vitamin A 2%; Vitamin C 0%; Calcium 4%; Iron 0%;
Exchanges: 1 Starch, 1/2 Other Carbohydrate, 1/2 Fat, Carbohydrate Choice: 1.50
*Percent Daily Values are based on a 2,000 calorie diet.
Preparation
Unwrap bars, and place on 2 small plates. Top each bar with 1 tablespoon yogurt and 1 tablespoon blueberries. Serve immediately.
Recipe Tips
Try a banana coffee cake version by swapping sliced bananas for the blueberries.
Simple for You, Easy for Them.