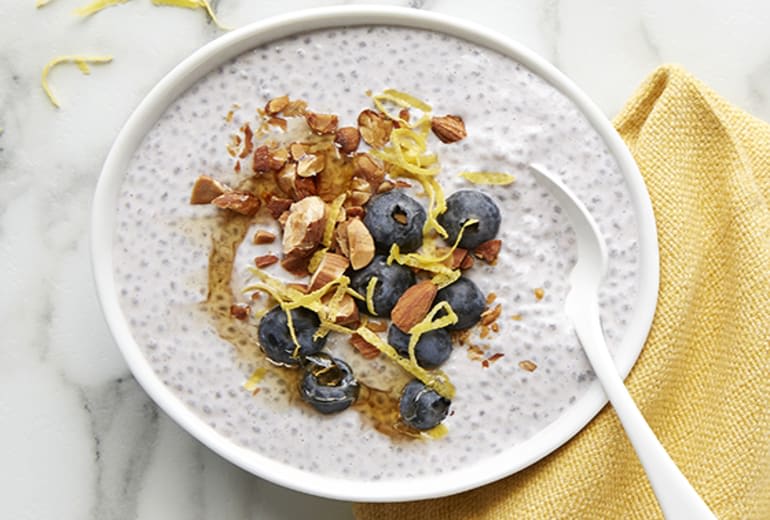 Blueberry-Lemon Chia Pudding
The classic combination of blueberry and lemon tops this creamy chia pudding for an easy and delicious way to start your day. It also makes a great dessert or snack.
Ingredients
2 containers (5.3 oz each) YQ by Yoplait™ Blueberry
1 cup unsweetened almond milk
¼ cup chia seed
1 tablespoon real maple syrup
¼ teaspoon vanilla
1 cup fresh blueberries
¼ cup chopped roasted almonds
1 tablespoon shredded lemon peel
Additional real maple syrup, if desired
Nutrition
1 Serving: Calories 210 (Calories from Fat 80); Total Fat 9g (Saturated Fat 1.5g, Trans Fat 0g); Cholesterol 10mg; Sodium 100mg; Potassium 180mg; Total Carbohydrate 20g (Dietary Fiber 5g); Protein 11g
% Daily Value: Vitamin A 4%; Vitamin C 10%; Calcium 25%; Iron 15%
Exchanges: 1/2 Fruit, 1/2 Other Carbohydrate, 1/2 Skim Milk, 1 Very Lean Meat, 1 1/2 Fat
Carbohydrate Choices: 1
Preparation
In medium bowl, mix YQ, almond milk, chia seed, 1 tablespoon maple syrup and the vanilla with whisk until blended. Refrigerate 30 minutes, beating occasionally with whisk.
Before serving, stir YQ mixture. Divide mixture among 4 individual serving bowls. Top each with blueberries, almonds, and lemon peel. Drizzle with additional maple syrup.
Recipe Tips
For a sweet spice, stir 1/4 teaspoon ground ginger into the YQ mixture.
This recipe makes enough for 4 servings and does not need to be used all at once. The YQ mixture will keep in the refrigerator, covered, for up to 3 days. Individual servings can be made as needed.
Simple for You, Easy for Them.