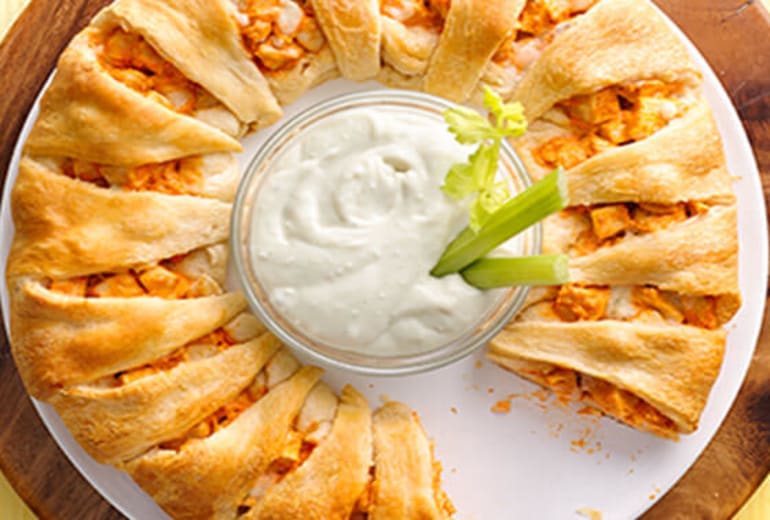 Buffalo Chicken Crescent Ring
Serve up a classic Buffalo chicken appetizer with a crescent twist on Game Day!
Ingredients
4 oz cream cheese (half of 8-oz package), softened
¼ cup hot sauce or red pepper sauce
2 ½ cups chopped cooked chicken (1/2-inch pieces)
1 cup shredded Monterey Jack cheese (4 oz)
2 cans (8 oz each) Pillsbury™ refrigerated crescent rolls
1/3 cup crumbled blue cheese
Nutrition
1 Serving: Calories 200; Calories from Fat 110; Total Fat 12g; (Saturated Fat 6g, Trans Fat 0g); Cholesterol 35mg; Sodium 420mg; Potassium 80mg; Total Carbohydrate 12g; (Dietary Fiber 0g); Sugars 3g; Protein 11g
% Daily Value: Vitamin A 4%; Vitamin C 2%; Calcium 8%; Iron 4%
Exchanges: 0 Starch; 0 Fruit; 1 Other Carbohydrate; 0 Skim Milk; 0 Low-Fat Milk; 0 Milk; 0 Vegetable; 1 Very Lean Meat; 0 Lean Meat; 1/2 High-Fat Meat; 1 1/2 Fat;
*Percent Daily Values are based on a 2,000 calorie diet.
Preparation
Heat oven to 375°F. In small bowl, mix cream cheese and hot sauce until smooth. Mix in chicken and shredded cheese just until combined.
Unroll both cans of dough; separate into 16 triangles. On ungreased large cookie sheet, arrange triangles in ring so short sides of triangles form a 5-inch circle in center. Dough will overlap. Dough ring should look like a sun.
Spoon cream cheese mixture on the half of each triangle closest to center of ring. Top with blue cheese crumbles.
Bring each dough triangle up over filling, tucking dough under bottom layer of dough to secure it. Repeat around ring until entire filling is enclosed (some filling might show a little).
Bake 20 to 25 minutes or until dough is golden brown and thoroughly baked. Cool 5 to 10 minutes before cutting into serving slices.
Recipe Tips
Add a bit of fresh to your appetizer; serve with celery and carrot sticks and a side of blue cheese dressing.
You can use leftover cut-up cooked chicken, or pick up a deli rotisserie chicken at the supermarket. Remove chicken from bones, and cut into bite-size pieces.
Simple for You, Easy for Them.