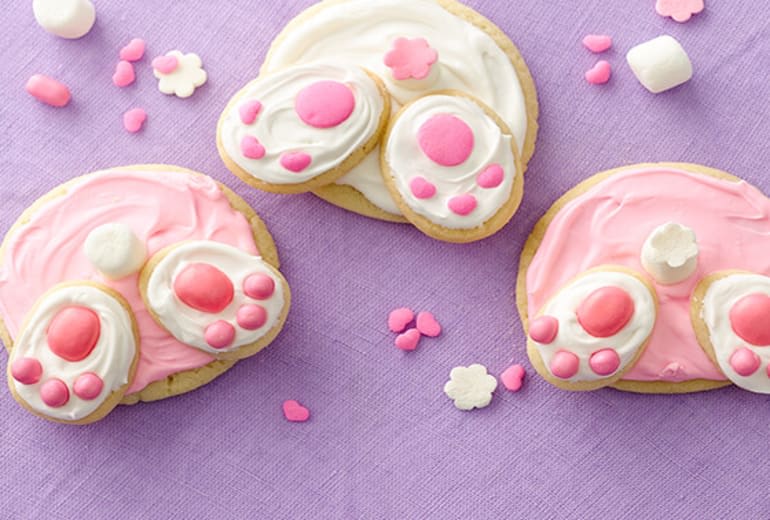 Bunny Butt Cookies
These cute bunny butt cookies are sure to become an Easter favorite.
Ingredients
1 roll (16.5 oz) Pillsbury™ refrigerated sugar cookies
¼ cup all-purpose flour
1 container (12 oz) fluffy white whipped ready-to-spread frosting
Pink gel food color, if desired
22 miniature marshmallows
Assorted size candy sprinkles
Nutrition
Serving Size: 1 Cookie
Calories 160 (Calories from Fat 60); Total Fat 7g; (Saturated Fat 2g, Trans Fat 2g); Cholesterol 0mg; Sodium 85mg; Potassium 10mg; Total Carbohydrate 25g; (Dietary Fiber 0g, Sugars 0g); Protein 1g
% Daily Value: Vitamin A 0%; Vitamin C 0%; Calcium 0%; Iron 0%
Exchanges: 1 Starch; 0 Fruit; 1/2 Other Carbohydrate; 0 Skim Milk; 0 Low-Fat Milk; 0 Milk; 0 Vegetable; 0 Very Lean Meat; 0 Lean Meat; 0 High-Fat Meat; 1 1/2 Fat;
*Percent Daily Values are based on a 2,000-calorie diet.
Preparation
Heat oven to 350°F. In large bowl, knead cookie dough and flour with hands until well mixed.
Reshape dough into 9x1 1/2-inch log.
Wrap in plastic wrap; refrigerate 30 minutes.Remove plastic wrap. Cut cookie dough into 33 slices. Cut 11 slices into 4 equal wedges; shape each wedge into ovals for bunny feet. Place cookie dough slices and bunny feet on ungreased cookie sheet.
Bake 8 to 12 minutes or until edges are light golden brown. Cool 1 minute; remove from cookie sheets to cooling racks. Cool completely, about 15 minutes.
In medium microwavable bowl, stir frosting and 1 to 3 drops pink food color until well blended. Microwave uncovered on High 10 to 15 seconds or until soft but not translucent.
To make bunny butt, frost 1 whole cookie slice and 2 bunny feet with frosting. Place bunny feet on bottom of cookie as shown in photo. Place 1 marshmallow in center of each cookie for tail. Decorate bunny paws with candy sprinkles. Repeat with remaining cookie slices and bunny feet.
Recipe Tips
To add ears to your bunny, place candy-coated almonds or jelly beans at top of each cookie.
You can bake and freeze cookies up to 2 months ahead.
Simple for You, Easy for Them.