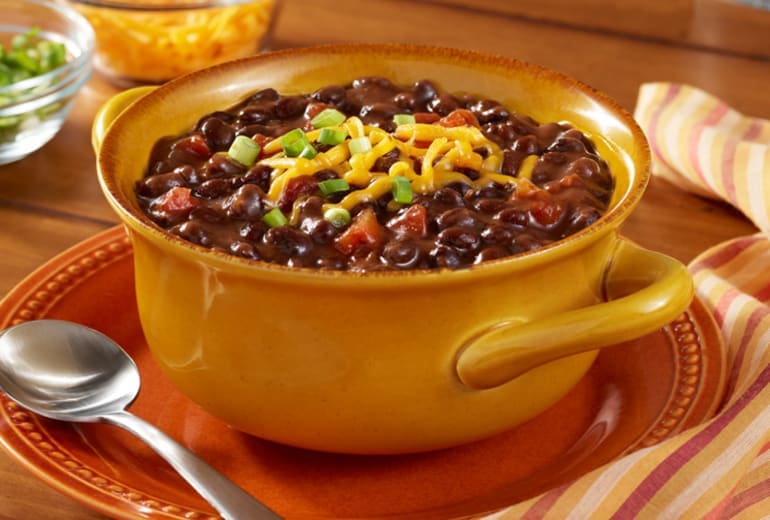 Bush's Best Three Bean Chili
This hearty meal uses our Dark Red Kidney, Pinto and Black Beans. The cinnamon flavor gives this recipe a sweet kick.
Ingredients
2 cans (15 oz) Bush's® Black Beans
1 can (16 oz) Bush's® Dark Red Kidney Beans
1 can (16 oz) Bush's® Pinto Beans
2 lbs lean ground round beef
3 teaspoon chili powder
1 small yellow onion, chopped
1 small green pepper, chopped
1 can (14.5 oz) tomatoes
1 can (6 oz) tomato paste
1-1/2 teaspoon salt
1 teaspoon garlic salt
1/2 teaspoon ground pepper
1/2 teaspoon cumin
cinnamon, to taste
Nutrition
1 Serving: Calories 468; Total Fat 10g (Saturated Fat 4g); Cholesterol 44mg; Sodium 1884mg; Total Carbohydrate 60g, Sugar 7g, (Dietary Fiber 19g); Protein 33g; Potassium 493mg;
Preparation
Brown ground beef in heavy Dutch oven or soup pot.
Add chili powder and mix well. Add onion and pepper to meat and cook for 2 minutes. Drain off excess grease.
Stir in remaining ingredients. Simmer on low heat for 10 minutes.
Top with a dollop of sour cream.
Simple for You, Easy for Them.