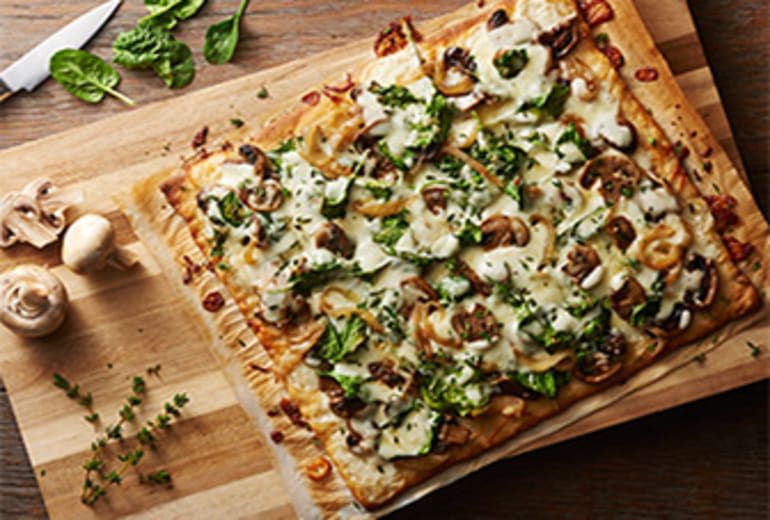 Caramelized Onion and Mushroom Pizza
With sweet caramelized onions, savory mushroom and two types of cheese, this delicious pizza comes together fast and flies off the table even faster!
Ingredients
1 package Pillsbury's Best™ refrigerated thin crust pizza dough
1 tablespoon olive oil
1 tablespoon butter
1 cup thinly sliced onion
¼ teaspoon salt
1 package (8 oz) sliced mushrooms
2 cloves garlic, chopped
1 cup baby spinach leaves, slightly packed
1 ½ cups shredded mozzarella cheese (6 oz)
½ cup shredded Parmesan cheese
1 teaspoon chopped fresh thyme leaves
Nutrition
1 Serving: Calories 400 (Calories from Fat 180); Total Fat 20g; (Saturated Fat 9g, Trans Fat 0g); Cholesterol 40mg; Sodium 970mg; Potassium 330mg; Total Carbohydrate 34g; (Dietary Fiber 1g); Sugars 5g; Protein 20g
% Daily Value: Vitamin A 25%; Vitamin C 6%; Calcium 45%; Iron 10%
2 Starch; 0 Fruit; 0 Other Carbohydrate; 0 Skim Milk; 0 Low-Fat Milk; 0 Milk; 1 Vegetable; 0 Very Lean Meat; 0 Lean Meat; 0 High-Fat Meat; 2 1/2 Fat;
*Percent Daily Values are based on a 2,000 calorie diet.
Preparation
Heat oven to 425°F. Place oven rack in low position. Unroll dough with oven-safe parchment paper onto ungreased large cookie sheet (dough bakes on paper). Brush with olive oil. Bake 7 minutes. Remove from oven.
Meanwhile, melt butter in 10-inch nonstick skillet over medium heat. Add onion and salt; cook 3 to 5 minutes, stirring occasionally, until onion softens. Add mushrooms; cook 5 to 7 minutes or until softened and beginning to brown. Stir in garlic; remove from heat.
Spread mushroom mixture evenly over dough. Top with spinach, mozzarella cheese and Parmesan cheese.
Bake 7 to 11 minutes longer or until cheese is melted and crust is golden brown. Sprinkle with thyme.
Recipe Tips
We tested with yellow onion, but sweet onion or red onion would also work well.
No fresh thyme? Substitute fresh Italian (flat-leaf) parsley, or leave out the herb garnish entirely.
Always read labels to make sure each recipe ingredient is vegetarian. Products and ingredient sources can change.
Simple for You, Easy for Them.