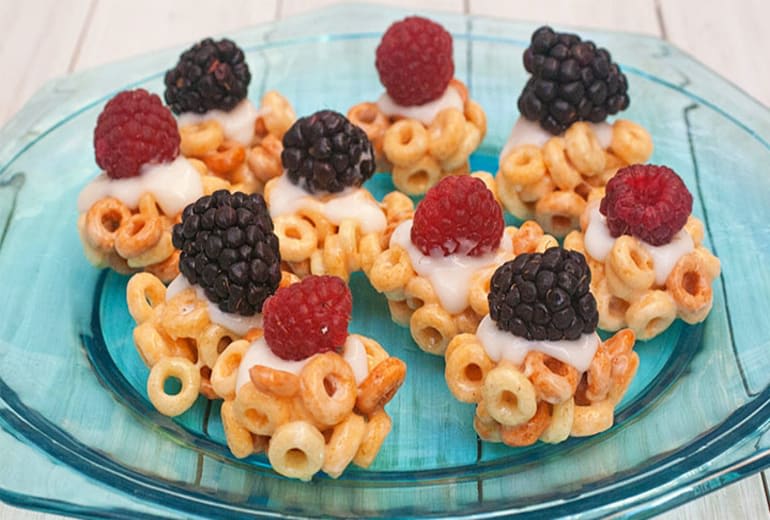 Cheerios Tarts with Yogurt and Berries
Our whimsical tarts made with Cheerios, yogurt, raspberries and blackberries are a great afterschool or slumber party snack that can be ready in 30 minutes.
Ingredients
2 cups miniature marshmallows
2 teaspoons butter
1/2 teaspoon ground cinnamon
2 ¼ cups Cheerios™ cereal
1 container (6 oz) Yoplait™ Original French Vanilla Yogurt
12 fresh raspberries
12 fresh blackberries
Preparation
Spray 24 mini muffin cups with cooking spray. In large saucepan, heat marshmallows, butter and cinnamon over medium-low heat about 2 minutes, stirring constantly, until marshmallows are melted. Remove from heat. Add cereal; stir until well coated.
Spoon about 1 tablespoon cereal mixture into each muffin cup; press in bottoms and up sides of cups. Let stand until set.
Just before serving, remove tarts from muffin cups. Top each with a small spoonful of yogurt and 1 berry.
Recipe Tips
This recipe is very versatile. Use your favorite flavor of Cheerios® cereal and yogurt—try Yoplait® mixed berry, red raspberry or blackberry harvest, for example, to pair with the berries. You can also use other berries, such as blueberries.
The tarts can be made ahead of time and stored in an airtight container. Top with yogurt and berries just before serving.
Simple for You, Easy for Them.