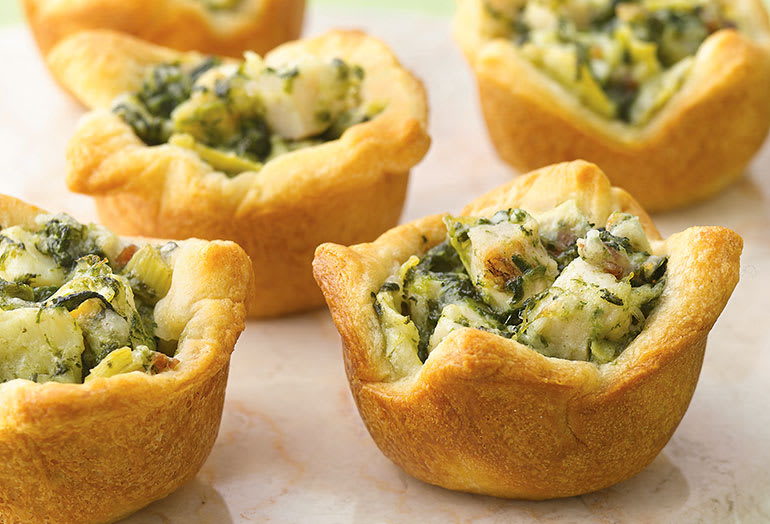 Cheesy Chicken and Artichoke Bites
Expecting a crowd? Make a simple appetizer with a perfect blend of familiar, crowd-pleasing flavors.
Ingredients
2 cans (8 oz each) Pillsbury™ refrigerated crescent rolls or 2 cans (8 oz each) Pillsbury™ refrigerated Crescent Dough Sheet
6 slices fully cooked bacon (from 2.1-oz package)
1 package (6 oz) refrigerated cooked chicken breast strips, cubed
1 box (9 oz) frozen chopped spinach, thawed, squeezed to drain and thoroughly chopped
1 can (13.75 oz) quartered artichoke hearts, drained, coarsely chopped
2 medium cloves garlic, finely chopped
½ cup mayonnaise or salad dressing
¼ cup sour cream
½ cup shredded Asiago cheese (2 oz)
¼ cup grated Parmesan cheese
Nutrition
Serving Size: 1 Appetizer
Calories 80 (Calories from Fat 45); Total Fat 5g; (Saturated Fat 1 1/2g, Trans Fat 1/2g); Cholesterol 10mg; Sodium 160mg; Potassium 50mg; Total Carbohydrate 5g; (Dietary Fiber 0g, Sugars 0g); Protein 3g
% Daily Value: Vitamin A 10%; Vitamin C 0%; Calcium 2%; Iron 2%
Exchanges: 1/2 Starch; 0 Fruit; 0 Other Carbohydrate; 0 Skim Milk; 0 Low-Fat Milk; 0 Milk; 0 Vegetable; 0 Very Lean Meat; 0 Lean Meat; 0 High-Fat Meat; 1 Fat;
*Percent Daily Values are based on a 2,000 calorie diet.
Preparation
Heat oven to 375°F.
If using crescent rolls: Unroll both cans of dough; separate into total of 8 rectangles. Firmly press perforations to seal. If using dough sheets: Unroll both cans of dough; cut dough into total of 8 rectangles.
Cut each rectangle into 6 (2-inch) squares. Press 1 square in bottom and up side of each of 48 ungreased mini muffin cups. Heat bacon as directed on package; crumble. In large bowl, mix bacon and remaining ingredients. Place 1 tablespoon chicken filling in each cup.
Bake 12 to 20 minutes or until edges are golden brown. Immediately remove from pans to serving platter. Serve warm.
Simple for You, Easy for Them.