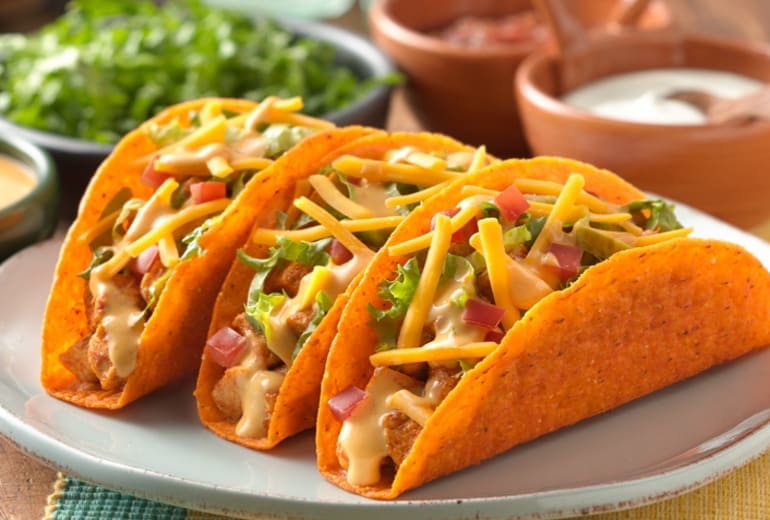 Cheesy Chicken Ten Minute Tacos
These tacos are sure to be a hit with your family with a cheesy nacho shell, topped with two additional cheeses. Even better, they come together in only 10 minutes!
Ingredients
1 tablespoon vegetable oil
1 lb boneless skinless chicken breasts, cut into very small thin strips
1 packet (1 oz) Old El Paso™ taco seasoning mix
8 Old El Paso™ Stand 'N Stuff™ bold nacho cheese flavored taco shells
1 cup shredded Cheddar cheese
1/2 cup salsa con queso
Fresh toppings
• shredded lettuce
• diced tomato
• fresh lime wedges
Nutrition
Calories 170 (Calories from Fat 70), Total Fat8g (Saturated Fat 3g, Trans Fat 0g), Cholesterol 35mg Sodium 420mg Total Carbohydrate 11g (Dietary Fiber 1g  Sugars 0g), Protein 13g; % Daily Value*: Vitamin A 4%; Vitamin C 0%; Calcium 0%; Iron 4%; Exchanges: 1/2 Starch; 0 Fruit; 0 Other Carbohydrate; 0 Skim Milk; 0 Low-Fat Milk; 0 Milk; 0 Vegetable; 1 1/2 Very Lean Meat; 0 Lean Meat; 0 High-Fat Meat; 1 1/2 Fat; Carbohydrate Choices: 1
*Percent Daily Values are based on a 2,000 calorie diet.
Preparation
In 10-inch nonstick skillet, heat oil over medium heat. Add chicken; cook, stirring occasionally, until brown on both sides. Sprinkle with taco seasoning mix. Cook, stirring occasionally until chicken is 165°F.
While chicken is cooking, heat shells and assemble toppings. Divide chicken mixture among shells; add shredded cheese, salsa con queso, and additional desired fresh toppings.
Simple for You, Easy for Them.