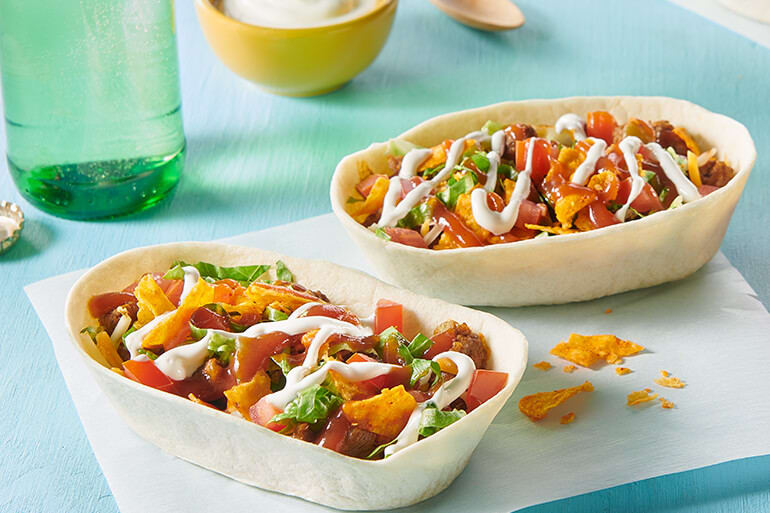 Cheesy Nacho Walking Taco Bowls
Whether you enjoy them at the dinner table or on the go, these simple 20-minute walking taco bowls might just become your new go-to. Seasoned ground beef, crushed up nacho-flavored tortilla chips and tasty taco toppings punch up the flavor, while Old El Paso™ Flour Soft Tortilla Bowls pull it all together with the convenience of a handheld walkable meal. Just fill 'em up and go!
Skip to Recipe Video
Ingredients
1 lb ground beef (at least 80% lean)
2/3 cup water
1 package (1 oz) Old El Paso™ Original Taco Seasoning Mix
1 can (4.5 oz) Old El Paso™ Chopped Green Chiles
1 package (8 count) Old El Paso™ Soft Tortilla Bowls, heated as directed on package
1 cup from 1 package (7 oz) Old El Paso™ Shredded 3 Pepper Blend Cheese
1 cup shredded romaine lettuce
3 cups nacho cheese tortilla chips, coarsely crushed
1/4 cup chopped tomatoes
1/2 cup Old El Paso™ Mild Taco Sauce
1/3 cup Old El Paso™ Crema Mexicana
Nutrition
1 Taco Calories 320 (Calories from Fat 160);  Total Fat 18g (Saturated Fat 8g ,Trans Fat 0g);  Cholesterol 50mg;  Sodium 740mg;  Potassium 170mg;  Total Carbohydrate 25g (Dietary Fiber 1g ,Sugars 2g);  Protein 15g 
% Daily Value: Vitamin A 10%;  Vitamin C 0%;  Calcium 15%;  Iron 15% 
Exchanges: 1 1/2 Starch;  1/2 High-Fat Meat;  1 1/2 Fat 
Carbohydrate Choice: 1 1/2 
*Percent Daily Values are based on a 2,000 calorie diet 
Preparation
In 10-inch nonstick skillet, cook beef over medium-high heat 5 to 7 minutes, stirring frequently, until thoroughly cooked; drain. Stir in water, taco seasoning mix and green chiles; heat to boiling. Reduce heat; simmer uncovered 3 to 4 minutes, stirring frequently, until thickened.
ivide warmed beef mixture among heated tortilla bowls. Top with cheese, lettuce, tortilla chips, tomatoes, taco sauce and sour cream.
Recipe Tips
Like a little more heat? Top your walking taco bowls with Old El Paso™ Medium Taco Sauce.
To switch up the flavor, try substituting Shredded Mexican Style 4 Cheese Blend for the Old El Paso™ Shredded 3 Pepper Blend Cheese.
Try adding even more fresh toppings, like chopped avocados or green onions.
Recipe Video
Cheesy Nacho Walking Taco Bowls
Simple for You, Easy for Them.