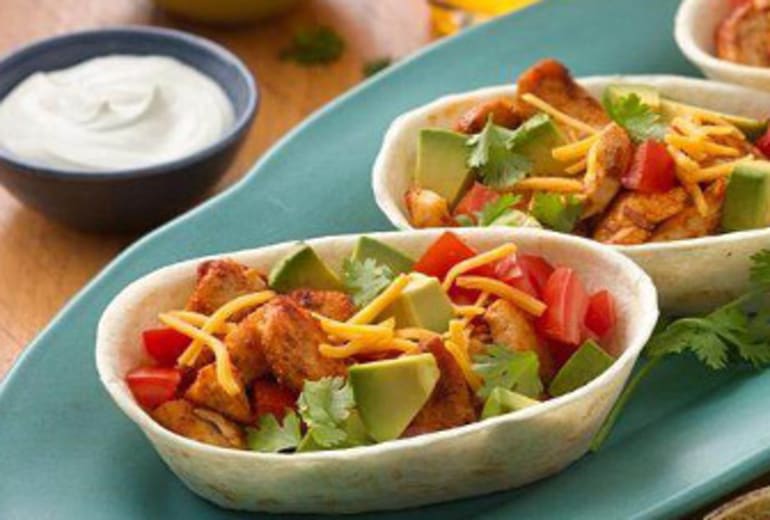 Chicken and Avocado Ten Minute Taco Boats
Ingredients
1 tablespoon vegetable oil
3 boneless skinless chicken breasts (about 1.25 lbs), cut into very small thin strips
1 package (1 oz) Old El PasoTM taco seasoning mix
8 Old EL PasoTM Taco BoatsTM Soft Flour Tortillas
2 Avocados from MexicoTM avocados, pitted, peeled and diced
Make it FRESH toppings, if desired
Nutrition
These taco 'boats' are sure to be the next family favorite; even better, they come together in record time!
1 serving 1 Taco Calories 250 (Calories from Fat 110), Total Fat 12g (Saturated Fat 2 ½ g, Trans Fat 0g), Cholesterol 45mg, Sodium 480mg, Total Carbohydrate 17g (Dietary Fiber 2g, Sugars 0g), Protein 18g; % Daily Value*: Vitamin A 6%; Vitamin C 2%; Calcium 4%; Iron 8%; Exchanges: 1 Starch; 0 Fruit; 0 Other Carbohydrate; 0 Milk Skim Milk; 0 Low-Fat Milk; 0 Milk; 0 Vegetable; 2 Very Lean Meat; 0 Lean Meat; 0 High-Fat Meat; 2 Fat; Carbohydrate Choices: 1
*Percent Daily Values are based on a 2,000 calorie diet
Preparation
In 10-inch nonstick skillet, heat oil over medium heat. Add chicken; cook, stirring occasionally, until browned on both sides. Sprinkle with taco seasoning mix. Cook, stirring occasionally, just until chicken is no longer pink in center.
While chicken is cooking, heat shells and prepare toppings. Divide chicken among shells; add avocado and other desired toppings.
Recipe Tips
Ideas for Make it FRESH toppings: shredded lettuce, diced tomato, shredded cheese and sour cream.
Simple for You, Easy for Them.