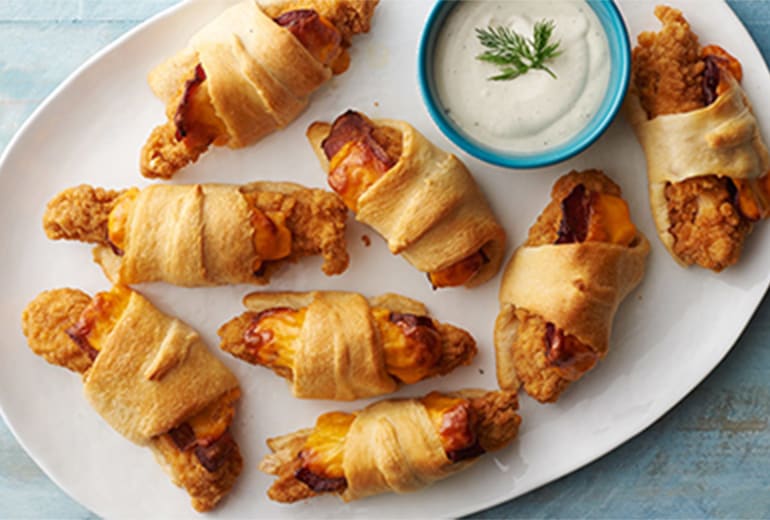 Chicken-Bacon-Ranch Crescent Roll-Ups
This 5-ingredient meal is a guaranteed hit with the whole family. A side of ranch dressing makes these crescent-wrapped bacon chicken roll-ups a quick and tasty weeknight meal.
Ingredients
1 can (8 oz) Pillsbury™ refrigerated crescent rolls
8 frozen breaded chicken strips (from 25-oz bag)
8 slices precooked bacon
4 slices Cheddar cheese (from 8-oz package), each cut into 4 strips
1/2 cup ranch dressing
Nutrition
1 Serving: Calories 150 (Calories from Fat 230), Total Fat 26g (Saturated Fat 8g, Trans Fat 0g), Cholesterol 45mg, Sodium 910mg, Potassium 20mg, Total Carbohydrate 25g (Dietary Fiber 1g, Sugars 4g), Protein 18g
% Daily Value*: Vitamin A 4%, Vitamin C 0%, Calcium 10%, Iron 2%
Exchanges: 1 Starch; 1/2 Other Carbohydrate; 1 1/2 Lean Meat; 1/2 High-Fat Meat; 3 1/2 Fat
*Percent Daily Values are based on a 2,000 calorie diet.
Preparation
Heat oven to 375°F. Line large cookie sheet with cooking parchment paper. Separate dough into 8 triangles. Place 1 chicken strip on wide end of each triangle; fold 1 slice bacon in half, placing on top of chicken strip, and add 2 strips of cheese on top of bacon.
Roll up each crescent, ending at tip of triangle. Place cheese side up on cookie sheet.
Bake 17 to 21 minutes or until deep golden brown and chicken is heated through. Serve warm with ranch dressing.
Recipe Tips
Mozzarella or Monterey Jack cheese may be substituted for Cheddar.
Amp up the ranch by stirring in 1/4 teaspoon Sriracha sauce.
Simple for You, Easy for Them.