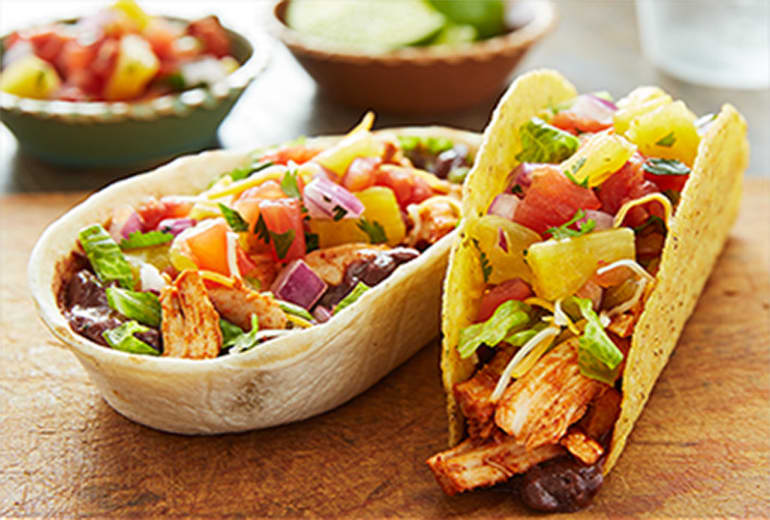 Chicken Black Bean Tacos
Enjoy these easy chicken black bean tacos with a sweet and spicy salsa.
Ingredients
Salsa:  
1 can (14.5 oz) Hunt's® diced tomatoes
1 can (10 oz) Ro*Tel® diced tomatoes and green chiles (Fire Roasted, Original, or Mild), drained
1/2 cup chopped fresh pineapple
1/3 cup chopped red onion
2 tablespoons chopped fresh cilantro
1 tablespoon lime juice
1/2 teaspoon coarse (kosher or sea) salt
Tacos:  
1 can (16 oz) Bush's Cocina Latina® Frijoles Negros Machacados (black beans)
1 box (9.4 oz) Old El Paso™ hard and soft taco dinner kit (Stand `n Stuff™ & Taco Boats™)
2 1/2 cups shredded deli rotisserie chicken
3 cups chopped romaine lettuce
1/4 cup Wish-Bone® E.V.O.O. Roasted Red Pepper Dressing
1 cup Kraft® shredded Mexican style four cheese blend (4 oz)
Nutrition
1 Taco: Calories 310 (Calories from Fat 130); Total Fat 14g (Saturated Fat 6g, Trans Fat 0g); Cholesterol 50mg; Sodium 1170mg; Total Carbohydrate 25g (Dietary Fiber 4g, Sugars 2g); Protein 19g
% Daily Value: Vitamin A 45%; Vitamin C 4%; Calcium 15%; Iron 10%
Exchanges: 1 Starch, 1/2 Other Carbohydrate, 1/2 Vegetable, 1 1/2 Lean Meat, 1/2 High-Fat Meat, 1 Fat
Carbohydrate Choices: 1 1/2
Preparation
In medium bowl, mix Salsa ingredients until well blended. Cover and refrigerate.
In 1-quart saucepan, cook beans with taco sauce from taco kit over medium heat 3 to 4 minutes or until heated through.
Meanwhile, in 10-inch nonstick skillet, cook chicken with taco seasoning from tack kit and water as directed on box over medium heat, stirring occasionally, 3 to 4 minutes or until heated through and liquid is absorbed.
Heat tacos and tortillas as directed on box.
Meanwhile, in medium bowl, toss romaine lettuce and dressing until well coated.
Fill each taco shell or tortilla with equal amounts of the black bean mixture, romaine lettuce, chicken and cheese. Serve with salsa. Serve immediately.
Simple for You, Easy for Them.