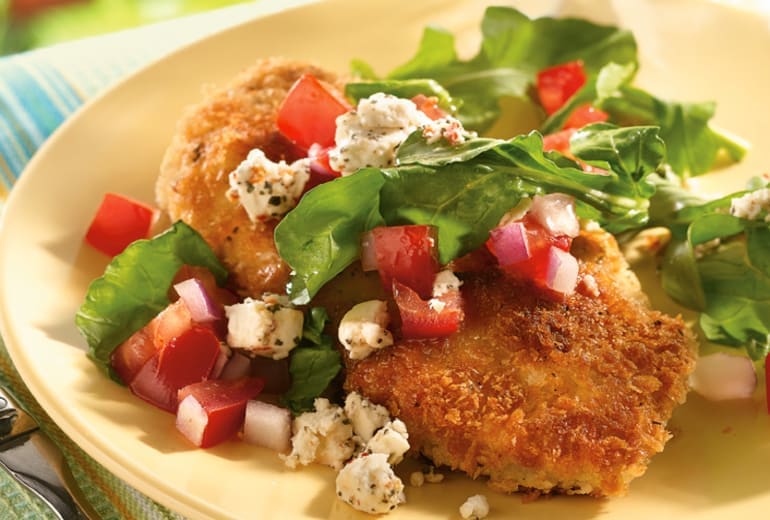 Chicken Milano
Light and crunchy Italian-style chicken breasts partnered with a salad can be on your dinner table in 30 minutes.
Ingredients
Dressing:  
1 tablespoon olive oil
2 teaspoons red wine vinegar
1/8 teaspoon salt
Salad:  
1 cup tightly packed baby spinach or arugula leaves
1/2 cup diced tomatoes
2 tablespoons diced red onion
Chicken:  
4 boneless skinless chicken breasts (about 1 1/4 lb)
1/4 teaspoon salt
1/4 teaspoon pepper
2 tablespoons all-purpose flour
1 cup Progresso™ Italian style panko crispy bread crumbs or Progresso™ Italian style bread crumbs
1 egg
2 tablespoons olive oil
1/4 cup crumbled tomato-basil feta cheese
Nutrition
Calories 450, Calories from Fat 220, Total Fat 24g, Saturated Fat 4 1/2g, Trans Fat 0g, Cholesterol 150mg, Sodium 830mg, Total Carbohydrate 21g, Dietary Fiber 0g, Sugars 1g, Protein 37g, % Daily Value*: Vitamin A 20%, Vitamin C 4%, Calcium 8%, Iron 10% Exchanges: 1 1/2 Starch; 0 Fruit; 0 Other Carbohydrate; 0 Skim Milk; 0 Low-Fat Milk; 0 Milk; 0 Vegetable; 0 Very Lean Meat; 4 1/2 Lean Meat; 0 High-Fat Meat; 1 1/2 Fat; Carbohydrate Choice 1 1/2
*Percent Daily Values are based on a 2000 calorie diet.
Preparation
In medium bowl, mix dressing ingredients. Stir in salad ingredients to coat.
Between pieces of waxed paper or plastic wrap, place each chicken breast smooth side down; gently pound with flat side of meat mallet or rolling pin until about 3/4 inch thick. Sprinkle with 1/4 teaspoon salt and the pepper.
On separate plates, place flour and bread crumbs. In bowl, beat egg with fork. Coat chicken with flour. Dip into egg; coat well with bread crumbs.
In 12-inch nonstick skillet, heat 2 tablespoons oil over medium heat. Add chicken; cook 8 to 10 minutes, turning once, until juice of chicken is clear when center of thickest part is cut (170 °F) and coating is golden brown. Serve chicken topped with salad and sprinkled with cheese.
Simple for You, Easy for Them.