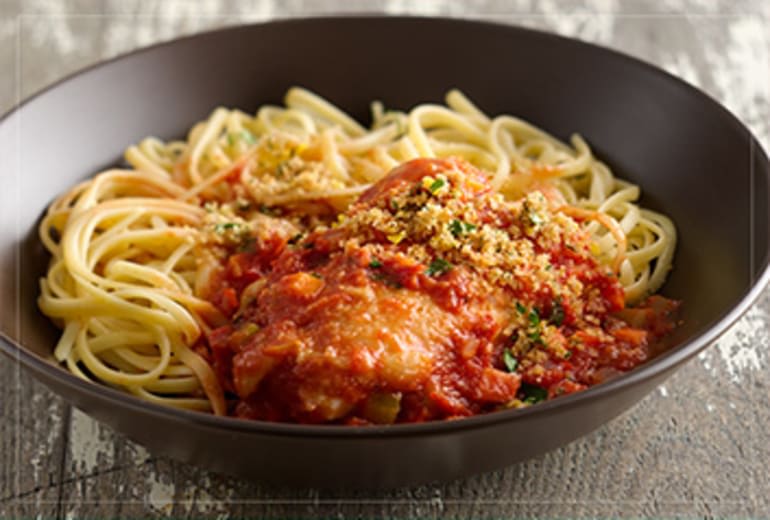 Chicken Osso Bucco
Osso Bucco is a northern Italian dish, which literally means "hollow bone."
Ingredients
1/3 cup Gold Medal™ all-purpose flour
1/2 teaspoon salt
1/4 teaspoon ground pepper
8 bone-in skinless chicken thighs (about 3 lb)
3 tablespoons Pompeian® olive oil**
1 cup finely chopped peeled carrots
1 cup chopped onion
1/2 cup chopped celery
4 cloves garlic, finely chopped
1/4 cup chopped fresh Italian (flat-leaf) parsley
3 teaspoons lemon peel
1 can (28 oz) Hunt's™ crushed tomatoes**, undrained
1/2 cup Progresso™ chicken broth** (from 32-oz carton)
1 box (16 oz) Mueller's® linguine pasta*
2 tablespoons butter
1/2 cup Progresso™ Italian style bread crumbs**
1 container (8-oz) crimini mushrooms, sliced, if desired
Nutrition
This Italian classic made with chicken thighs will make an unforgettable winter meal.
1 Serving: Calories 490 (Calories from Fat 120); Total Fat 14g (Saturated Fat 4g); Cholesterol 100mg; Sodium 720mg; Total Carbohydrate 60g (Dietary Fiber 4g); Protein 31g
% Daily Value*: Vitamin A 70%; Vitamin C 15%; Calcium 4%; Iron 30%
Exchanges: 3 Starch, 1/2 Other Carbohydrate, 1 Vegetable, 3 Lean Meat, 1/2 Fat
Carbohydrate Choices: 4
*Percent Daily Values are based on a 2,000 calorie diet.
Preparation
Heat oven to 350°F. In small bowl, mix flour, salt and pepper until well blended. Coat chicken in flour mixture; shake off excess flour. In 12-inch skillet, heat 2 tablespoons of the olive oil over medium heat. Add coated chicken to oil; cook 12 to 15 minutes, turning once, until golden brown. Place chicken in ungreased 13x9-inch (3-quart) baking dish; set aside.
In same skillet, heat remaining 1 tablespoon olive oil over medium heat. Add carrots, onion, celery and garlic; cook 5 to 6 minutes, stirring occasionally, until vegetables are crisp-tender. Stir in 3 tablespoons of the Italian parsley, 2 teaspoons of the lemon peel, the tomatoes and chicken broth; cook 2 to 3 minutes or until thoroughly heated. Pour tomato mixture over chicken. Cover with foil; bake 45 to 50 minutes or until juice of chicken is clear when thickest part is cut to bone (at least 165°F).
Cook and drain pasta as directed on box. Meanwhile, in 8-inch skillet, melt butter over medium-high heat. Add bread crumbs; cook 1 to 2 minutes, stirring frequently, until golden brown; remove from heat. Stir in remaining 1 tablespoon parsley and remaining 1 teaspoon lemon peel. Serve chicken over pasta; sprinkle with bread crumb mixture.
Recipe Tips
For mushroom lovers, stir 8-oz sliced crimini mushrooms into tomato mixture.
Boneless, skinless chicken thighs can be substituted for the bone-in chicken thighs.
Simple for You, Easy for Them.