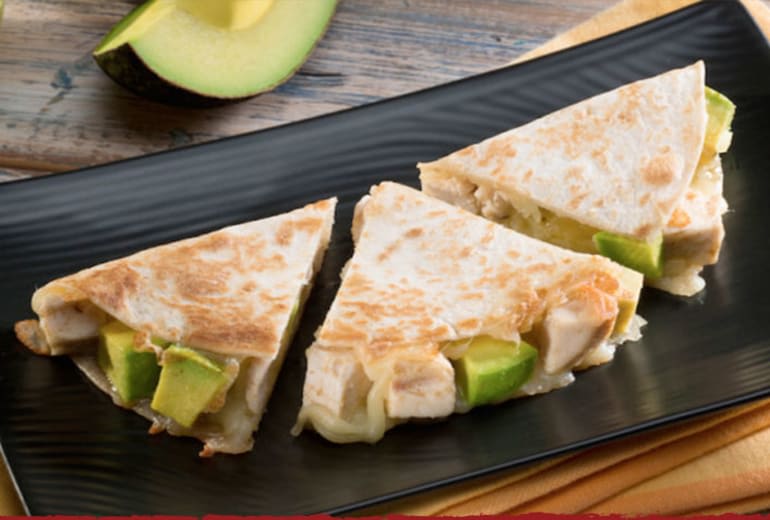 Chicken Quesadillas
Avocados are the perfect addition to any meal! Create this crowd-pleasing favorite for your next Cinco de Mayo fiesta.
Ingredients
2 tablespoons olive oil, divided
2 tablespoons lime juice
½ teaspoon ground cumin
2 cups cooked diced chicken
1 Avocados from Mexico® avocado, halved, pitted, peeled and diced into 1-inch cubes
1 package (11.5 oz) Old El Paso™ flour tortillas for burritos (8 tortillas)
¼ cup shredded Jack or Pepper Jack cheese
Nutrition
1 Serving: Calories 379, Total Fat 21.88g; (Saturated Fat 5.43g); Total Carbohydrates19.73g
*Percent Daily Values are based on a 2,000 calorie diet.
Preparation
Preheat oven to 450°F. In a medium bowl, combine 1 tablespoon of the olive oil, lime juice and cumin. Add chicken and avocado; toss gently.
Lay tortillas on a baking sheet; brush both sides with the remaining 1-tablespoon oil.
Spoon chicken and avocado mixture on each tortilla, dividing evenly; top with cheese.
Fold tortillas in half to cover filling.
Bake until tortillas are crisp, about 8 minutes.
If desired, serve with salsa.
Simple for You, Easy for Them.