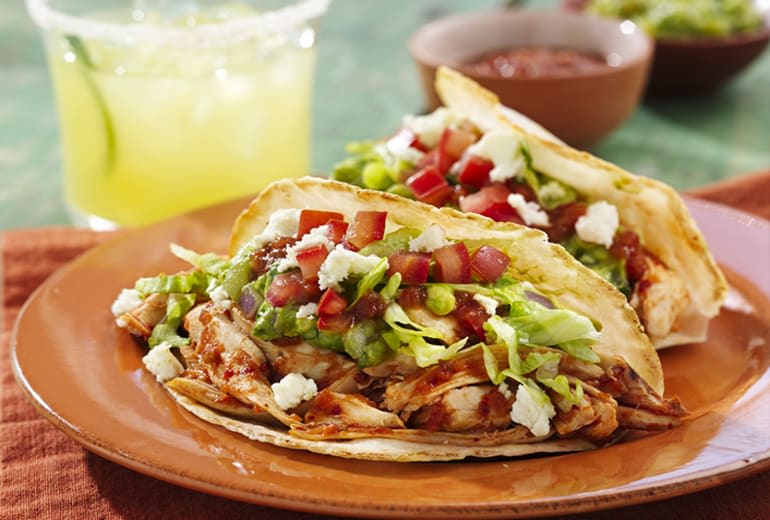 Chipotle Chicken Puffy Tacos
Puffy taco shells stuffed with pulled rotisserie chicken in chipotle sauce. Topped with fresh guacamole, salsa and favorite taco toppings like lettuce, tomato and queso fresco.
Ingredients
Toppings

2 avocados, pitted, peeled and cubed
1 can (4.5 oz.) Old El Paso™ chopped green chiles
1 tablespoon lime juice
2 tablespoons chopped red onion
1/4 cup chopped fresh cilantro
1 ½ cups shredded iceberg lettuce
1 plum (Roma) tomato, seeded and diced
3/4 cup crumbled queso fresco cheese

Chipotle Sauce

3/4 cup salsa
1 canned chipotle chile in adobo sauce (with 1 tablespoon adobo sauce)
1/4 cup water

Filling

2 ½ cups pulled (not shredded) deli rotisserie chicken (from 2-lb chicken)

Puffy Tortillas

1/4 cup vegetable oil
8 Old El Paso™ tortillas for soft tacos & fajitas (6 inch)
Nutrition
Calories 300 (Calories from Fat 150), Total Fat 17g (Saturated Fat 4g, Trans Fat 1g), Cholesterol 45mg Sodium 720mg Total Carbohydrate 21g (Dietary Fiber 3g, Sugars 0g), Protein 17g
% Daily Value*: Vitamin A 10%; Vitamin C 8%; Calcium 10%; Iron 8%
Exchanges: 1 Starch; 0 Fruit; 1/2 Other Carbohydrate; 0 Skim Milk; 0 Low-Fat Milk; 0 Milk; 0 Vegetable; 1 Very Lean Meat; 1/2 Lean Meat; 1/2 High-Fat Meat; 2 Fat
Carbohydrate Choices: 1 ½
*Percent Daily Values are based on a 2,000 calorie diet.
Preparation
In medium bowl, make guacamole by mixing avocados, green chiles, lime juice, red onion and cilantro, mashing slightly; set aside.
Plate chipotle sauce ingredients in blender or food processor. Cover; blend on high speed until smooth. Pour half of sauce in 10-inch skillet over medium heat with chicken, reserving 1/2 cup for topping. Cover skillet; heat chicken and sauce until warm.
Meanwhile, heat oil in 10-inch nonstick skillet over medium heat. Add 1 tortilla. Cook until starting to puff up, then turn over. Once second side is puffed up, remove from skillet; drain on paper towels.
Fold each tortilla in half, and top with slightly less than 1/3 cup chicken mixture. Top with guacamole, a drizzle of reserved sauce, lettuce, tomato and cheese.
Recipe Tips
If you want more zesty chipotle flavor, dust the puffy tortillas with chipotle powder after draining on paper towels.
Simple for You, Easy for Them.