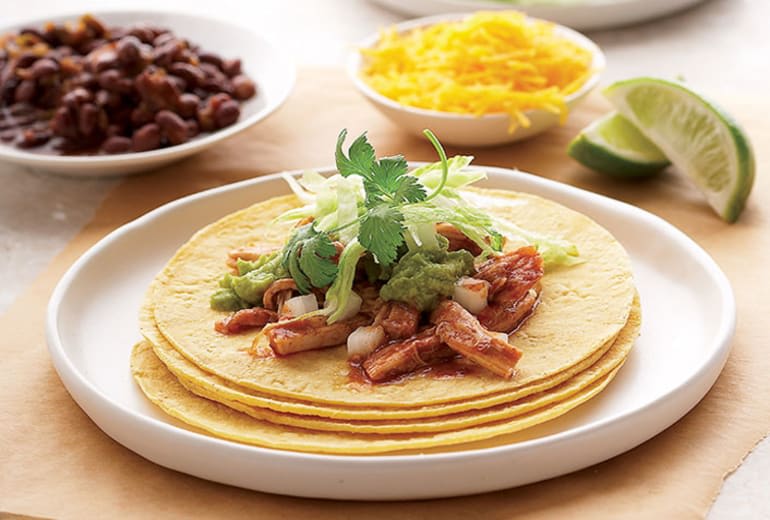 Chipotle Pork Tacos
Enjoy this stress-free, slow-cooked taco dinner made with Old El Paso® taco seasoning mix.
Ingredients
1 boneless pork loin roast (3 to 4 lb)
1 package (1 oz) Old El Paso™ taco seasoning mix
1 jar (16 oz) black bean salsa
2 cans (10 oz each) Progresso™ black beans, drained, rinsed
2 cubes chipotle bouillon mini cubes, crushed
1 bottle (12 oz) beer
1 package (32 oz) 6-inch corn tortillas
1 package (16 oz) shredded cheddar cheese
1 medium yellow onion, finely chopped
8 limes, quartered
1/2 head iceberg lettuce or cabbage, shredded
1 bunch fresh cilantro sprigs
Nutrition
Calories 670 (Calories from Fat 210), Total Fat 23g, (Saturated Fat 12g, Trans Fat 0g), Cholesterol 105mg; Sodium 1040mg; Total Carbohydrate 65g, (Dietary Fiber 12g, Sugars 6g), Protein 48g
% Daily Value*: Vitamin A 25%; Vitamin C 15%; Calcium 40%; Iron 20%
Exchanges: 4 Starch; 0 Fruit; 1/2 Other Carbohydrate; 0 Skim Milk; 0 Low-Fat Milk; 0 Milk; 0 Vegetable; 0 Very Lean Meat; 5 Lean Meat; 0 High-Fat Meat; 1 Fat
Carbohydrate Choices: 4
*Percent Daily Values are based on a 2,000 calorie diet.
Preparation
Rub taco seasoning over pork. Place pork in 5-quart slow cooker; add salsa and beans. Sprinkle with bouillon. Pour beer over pork.
Cover; cook on Low heat setting 8 to 10 hours.
Remove pork from cooker; place on cutting board. Cool pork slightly. With 2 forks, shred pork, place is medium serving bowl. Into a 4-cup glass measuring cup, strain sauce through strainer to remove beans. Stir 2 cups sauce and black beans into shredded pork.
Serve pork and beans with platters or bowls of warmed tortillas, shredded cheese, chopped onion, lime pieces, shredded lettuce, and cilantro sprigs.
Simple for You, Easy for Them.