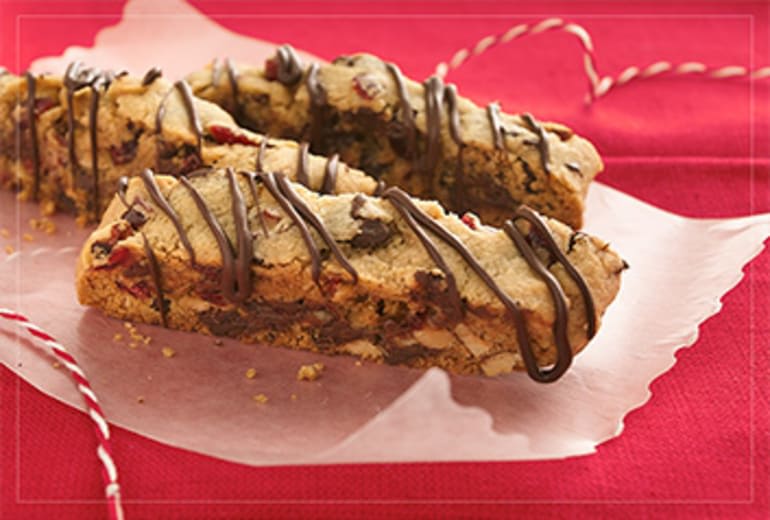 Chocolate Chip Biscotti
Biscotti means "twice baked," sailors discovered that if they baked bread twice it would last better on sea voyages.
Ingredients
1 pouch (1 lb 1.5 oz) Betty Crocker™ sugar cookie mix
1/3 cup butter or margarine, softened
1 egg
1/4 cup Gold Medal™ all-purpose flour
1/2 cup toasted chopped hazelnuts
1/2 cup cherry-flavored dried cranberries, coarsely chopped
2 cups semisweet chocolate chips
Nutrition
They're Italian! Baked twice for a crunchy texture, biscotti are meant to be dunked in coffee.
1 Serving: Calories 230 (Calories from Fat 100), Total Fat 11g (Saturated Fat 5g; Trans Fat 1g;), Cholesterol 15mg; Sodium 90mg; Total Carbohydrate 31g; (Dietary Fiber 1g; Sugars 20g), Protein 2g
% Daily Value*: Vitamin A 2%; Vitamin C 0%; Calcium 0%; Iron 6%
Exchanges: 1 1/2 Starch; 0 Fruit; 1 1/2 Other Carbohydrate; 0 Skim Milk; 0 Low-Fat Milk; 0 Milk; 0 Vegetable; 0 Very Lean Meat; 0 Lean Meat; 0 High-Fat Meat; 2 Fat
Carbohydrate Choices: 2
*Percent Daily Values are based on a 2,000 calorie diet.
Preparation
Heat oven to 350°F. In large bowl, stir cookie mix, butter, egg, flour, hazelnuts, cranberries and 1 1/2 cups chocolate chips until stiff dough forms. Shape half of dough at a time into 8x2 1/2-inch rectangle on ungreased cookie sheet. Bake 20 to 25 minutes or until golden brown. Cool on cookie sheet 15 minutes.
Cut crosswise into 3/4-inch slices. Place slices, cut sides down, on cookie sheet. Bake 10 to 12 minutes, turning once, until crisp. Remove from cookie sheet to wire rack. Cool completely, about 20 minutes.
In small microwavable bowl, microwave 1/2 cup chocolate chips on High 30 to 60 seconds; stir until smooth. Drizzle chocolate over one side of each biscotti. Let stand until chocolate is set.Need a gift for a coffee lover? Pack biscotti in a latte cup or small basket with coffee beans.To soften butter, microwave unwrapped butter in glass bowl or measuring cup uncovered on High 10 to 20 seconds.
Simple for You, Easy for Them.