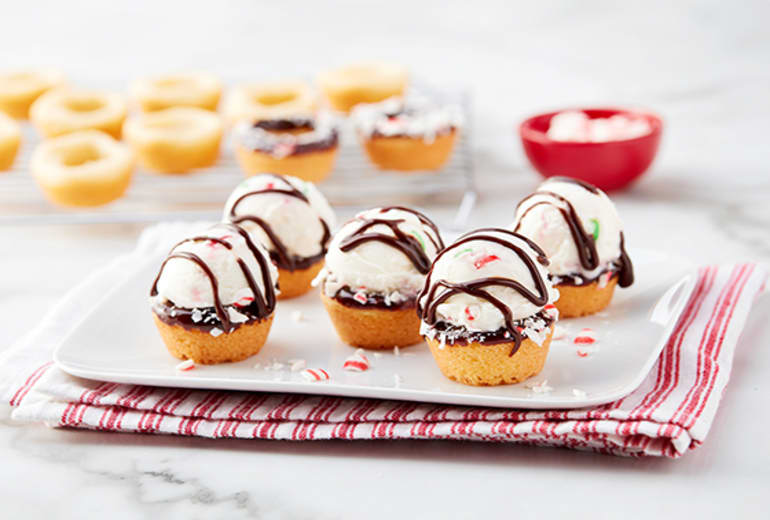 Chocolate-Peppermint Ice Cream Cookie Cups
Chocolate and peppermint ice cream in cookie cups are perfect partners for any holiday gathering.
Ingredients
1 package (16 oz) Pillsbury™ Ready to Bake!™ refrigerated sugar cookies (24 ct)
½ cup plus 2 tablespoons hot fudge
1/3 cup crushed hard peppermint candies or candy canes
1¾ cups peppermint stick ice cream
Nutrition
Serving Size: 1 Cookie Cup
Calories 150 (Calories from Fat 45); Total Fat 5g; (Saturated Fat 2g, Trans Fat 0g); Cholesterol 5mg; Sodium 85mg; Total Carbohydrate 24g; (Dietary Fiber 0g, Sugars 16g); Protein 1g
% Daily Value: Vitamin A 0%; Vitamin C 0%; Calcium 0%; Iron 0%
Exchanges: 1/2 Starch; 0 Fruit; 1 Other Carbohydrate; 0 Skim Milk; 0 Low-Fat Milk; 0 Milk; 0 Vegetable; 0 Very Lean Meat; 0 Lean Meat; 0 High-Fat Meat; 1 Fat;
*Percent Daily Values are based on a 2,000 calorie diet.
Preparation
Heat oven to 350°F. Spray 24 miniature muffin cups with cooking spray. Place 1 cookie dough round in each muffin cup. Bake 15 to 20 minutes or until golden brown.
Using back of rounded measuring teaspoon or end of wooden spoon handle, carefully make 1-inch-wide indentation in center of each cookie cup. Cool completely in pan, about 30 minutes.
In small microwavable bowl, microwave 1/2 cup hot fudge uncovered on High 15 to 30 seconds or until dipping consistency (do not overheat).
Run knife around edges of cups to loosen; gently remove from pan. Dip rim of each cup into hot fudge, then into crushed peppermint candies. Place candy side up on cookie sheet with sides. Spoon 1/2 teaspoon hot fudge into each cup. Freeze about 10 minutes or until fudge is set on edges of cups.
Using small cookie scoop or measuring tablespoon, spoon ice cream into cups. Freeze 45 minutes.
Spoon 2 tablespoons hot fudge in 1-quart resealable food-storage plastic bag. Drizzle each cup with hot fudge. Serve immediately.
Recipe Tips
Baked cookie cups dipped in chocolate and candy can be prepared and stored up to 1 week in freezer. Fill with ice cream, and drizzle tops just before serving.
For the success of this recipe, don't overheat hot fudge, as it will melt the ice cream.
Cookie cups can be made up to 1 day in advance without dipping and filling. Store covered at room temperature.
Simple for You, Easy for Them.