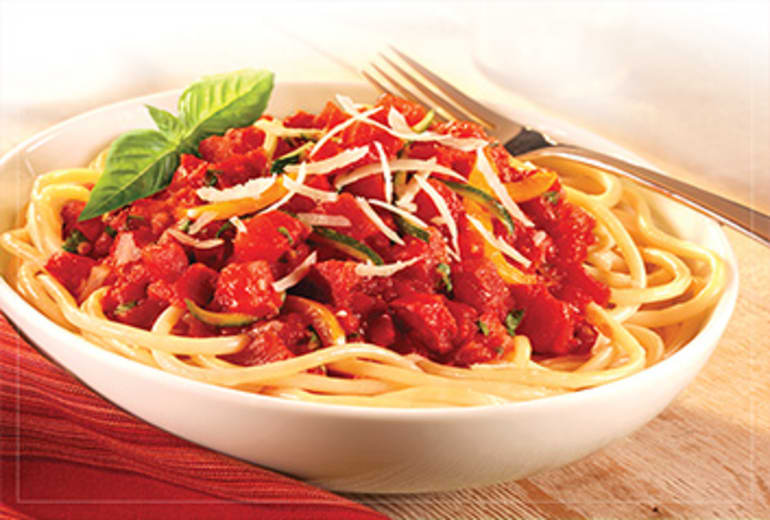 Chunky Tomato Sauce with Bucatini Pasta
Each region in Italy has a favorite way to eat Pasta. In Rome, two classics are the cabonara and cacio e pepe.
Ingredients
PAM® Original No-Stick Cooking Spray
12 ounces dry bucatini pasta or spaghetti, uncooked
1/2 cup julienned zucchini
1/2 cup julienned yellow bell pepper
1/4 teaspoon kosher salt
2 tablespoons extra virgin olive oil
2 cups chopped red bell pepper (2 cup = about 2 large)
1 cup chopped yellow onion (1 cup = about 1 large)
2 tablespoons minced garlic
2 cans (14.5 oz each) Hunt's™ diced tomatoes, undrained
3/4 cup thinly sliced fresh basil (3/4 cup = about 1 oz)
2 tablespoons red wine vinegar
Freshly grated Parmesan cheese, if desired
Nutrition
An easy-to-make chunky tomato sauce loaded with fresh veggies served over fun-shaped pasta.
1 Serving: (1 cup pasta with about 1/2 cup sauce each) Calories 343; Total Fat 6 g (Saturated Fat 1 g); Cholesterol 0 mg; Sodium 504 mg; Carbohydrate 60 g; (Dietary Fiber 6 g, Sugars 8 g); Protein 11 g
% Daily Value*: Vitamin A 45%; Vitamin C 202%; Calcium 6%; Iron 20%
*Percent Daily Values are based on a 2,000 calorie diet.
Preparation
Cook pasta according to package directions. Meanwhile, spray large nonstick skillet with cooking spray; heat over medium-high heat. Add zucchini, yellow bell pepper and salt. Cook and stir 2 minutes or until vegetables are crisp-tender. Remove from skillet; keep warm.
Add oil to skillet. Add red bell pepper, onion and garlic; cook 8 to 10 minutes or until onion is tender, stirring frequently.
Add undrained tomatoes, basil and vinegar. Cook and stir 3 minutes or until hot.
Serve tomato sauce over pasta. Top with reserved vegetables; sprinkle with Parmesan cheese, if desired.
Recipe Tips
To julienne vegetables, cut them into thin, match-like pieces, about 1-1/2 inches long. This can be done with a chef's knife or using a piece of equipment called a mandoline.
Simple for You, Easy for Them.