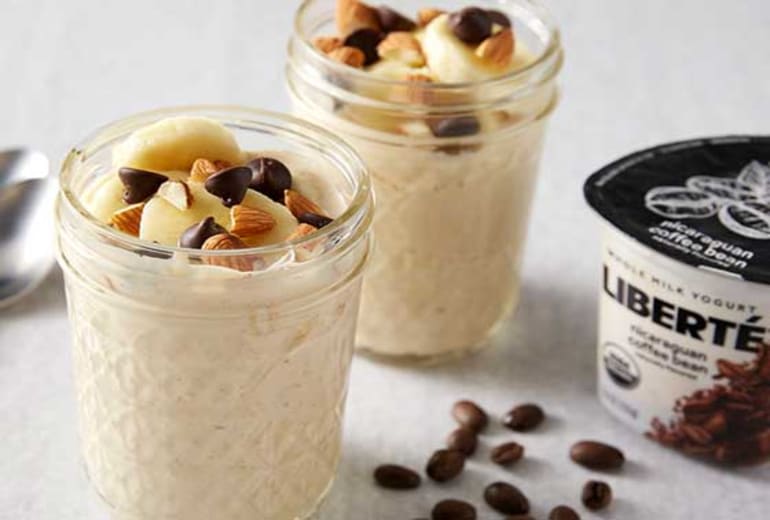 Coffee Overnight Oats
Old fashioned oats soak overnight in Liberté® organic yogurt with a coffee flavored twist for a delicious breakfast ready to be topped with sliced bananas, dark chocolate chips and chopped almonds.
Ingredients
2 containers (6 oz each) Liberté® organic Nicaraguan coffee bean yogurt
½ cup uncooked Publix GreenWise™ organic old fashioned oats
¼ cup Publix GreenWise™ organic coffee (brewed and cooled)
¼ teaspoon organic ground cinnamon Toppings
1 banana, sliced
2 tablespoons dark chocolate chips
2 tablespoons chopped almonds
Nutrition
2 servings (about ¾ cup each)
Calories 460 (Calories from Fat 180); Total Fat 20g; (Saturated Fat 10g, Trans Fat 0g), Cholesterol 45mg; Sodium 85mg; Total Carbohydrate 61g (Dietary Fiber 5g); Sugars 35g); Protein 10g
% Daily Value: Vitamin A 8%; Vitamin C 8%; Calcium 20%; Iron 10%;
Exchanges: 1 Starch, 1/2 Fruit, 2 Other Carbohydrate, 1/2 Milk, 1/2 High-Fat Meat, 2 1/2 Fat Carbohydrate Choice: 4.00
*Percent Daily Values are based on a 2,000 calorie diet.
Preparation
In small bowl, mix yogurt, oats, coffee and cinnamon. Divide between 2 small jars or other resealable containers. Cover; refrigerate at least 8 hours but no longer than 3 days.
Before serving, top each serving with Toppings.
Recipe Tips
Coffee bean yogurt not your favorite? Improvise by using 2 containers of Liberté® organic Madagascar vanilla yogurt. Stir in up to ¼ cup organic milk in place of the brewed coffee.
Simple for You, Easy for Them.