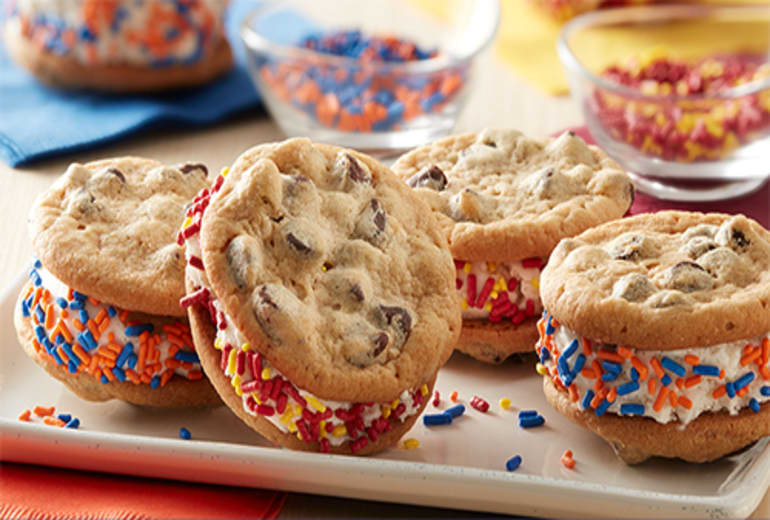 Cookie Madness
Make cookie ice cream sandwiches ahead for game day. Use colored sprinkles and napkins to coordinate with your team colors.
Ingredients
1 package Pillsbury™ Ready to Bake!™ refrigerated chocolate chip cookies (24 cookies)
2 ¼ cups Breyer's™ natural vanilla ice cream, slightly softened (from 48-oz carton)
¼ cup desired colored candy sprinkles
Nutrition
1 Serving: Calories 240 (Calories from Fat 100); Total Fat 11g (Saturated Fat 6g, Trans Fat 0g); Cholesterol 15mg; Sodium 160mg; Potassium 55mg; Total Carbohydrate 32g (Dietary Fiber 0g); Protein 2g
% Daily Value: Vitamin A 2%; Vitamin C 0%; Calcium 4%; Iron 2%
Exchanges: 1/2 Starch, 1 1/2 Other Carbohydrate, 2 Fat
Carbohydrate Choices: 2
Preparation
Heat oven to 350°F. Bake cookies as directed on package. Cool completely, about 30 minutes.
For each sandwich, place slightly less than 3 tablespoons ice cream onto bottom of 1 cookie. Top with second cookie, bottom side down. Gently press cookies together in center; ice cream should spread to edge of sandwich. Place sandwiches in freezer in 13x9-inch pan as they are prepared. Freeze about 15 minutes to firm up ice cream.
Place sprinkles in shallow bowl; gently roll outer edge of sandwich in sprinkles. Quickly wrap in plastic wrap. Freeze 2 to 3 hours or until firm. Let stand 5 minutes before serving.
Recipe Tips
Work with ice cream quickly, but if your ice cream gets too soft, return it to freezer for a few minutes; stir it to blend. Use other flavors of ice cream in your ice cream sandwiches.
Simple for You, Easy for Them.