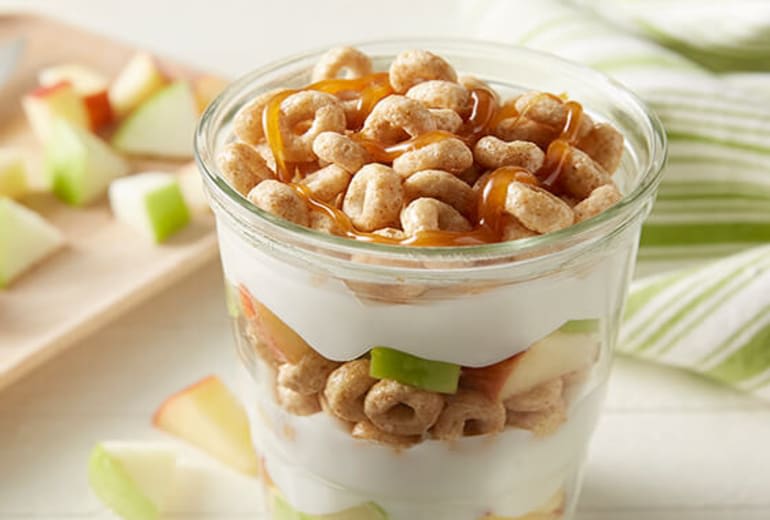 Creamy Apple Cinnamon Parfait
This simple but delicious parfait combines creamy Yoplait™ Original French vanilla yogurt, diced apples and Apple Cinnamon Cheerios™ cereal for a nice crunchy texture. Top it off with a delicious drizzle of caramel syrup.
Ingredients
½ cup chopped tart apples (red or green)
1 container (6 oz) Yoplait™ Original French vanilla yogurt
½ cup Apple Cinnamon Cheerios™ cereal
1 teaspoon caramel topping
Nutrition
1 Parfait: Calories 270 (Calories from Fat 30); Total Fat 3g (Saturated Fat 1g, Trans Fat 0g), Cholesterol 10mg; Sodium 200mg; Total Carbohydrate 53g (Dietary Fiber 3g); Sugars 34g); Protein 7g
% Daily Value: Vitamin A 20%; Vitamin C 10%; Calcium 25%; Iron 15%;
Exchanges: 1/2 Starch, 1/2 Fruit, 2 Other Carbohydrate, 1/2 Skim Milk, 1/2 Fat, Carbohydrate Choice: 3.50
*Percent Daily Values are based on a 2,000 calorie diet.
Preparation
In parfait glass or clear drinking glass, layer half of the apples, half of the yogurt and half of the cereal. Repeat layers. Drizzle with caramel.
Serve immediately.
Recipe Tips
Sprinkle with cinnamon or add chopped pecans as another topping option.
Simple for You, Easy for Them.