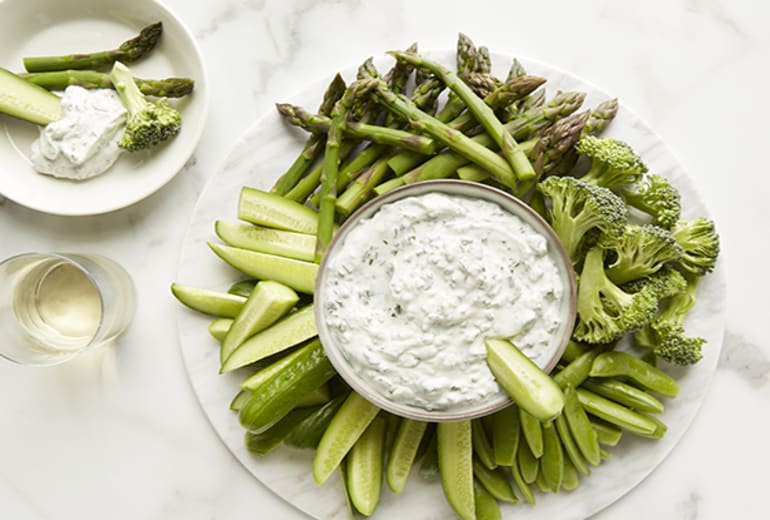 Creamy Herbed Dip
Whether spooned over grilled meats and vegetables, used as a spread for wraps or as a dip for crudites, this fresh, citrusy, herbal dip perks up any meal or snack.
Ingredients
2 containers (5.3 oz each) YQ by Yoplait™ Plain (1 1/3 cups)
¼ cup finely chopped fresh chives
2 tablespoons finely chopped fresh parsley leaves
2 tablespoons chopped fresh basil leaves
1 clove garlic, finely chopped
1 teaspoon lemon juice
¼ teaspoon salt
Nutrition
1 Serving: Calories 20 (Calories from Fat 0); Total Fat 0.5g (Saturated Fat 0g, Trans Fat 0g); Cholesterol 0mg; Sodium 55mg; Potassium 10mg; Total Carbohydrate 0g (Dietary Fiber 0g); Protein 3g
% Daily Value: Vitamin A 2%; Vitamin C 2%; Calcium 2%; Iron 0%
Exchanges: Free
Carbohydrate Choices: 0
Preparation
In medium bowl, mix all ingredients. Cover and refrigerate until ready to serve. Serve with crudités and crackers, or spoon over grilled meats and vegetables.
Dip will keep, covered and refrigerated, up to 4 days.
Recipe Tips
Chop herbs very finely for a smoother texture.
Experiment with other herbs, such as 1 tablespoon chopped fresh tarragon instead of the basil, or green onion instead of chives.
Also look for YQ by Yoplait™ Plain in the larger 26 oz container.
Simple for You, Easy for Them.