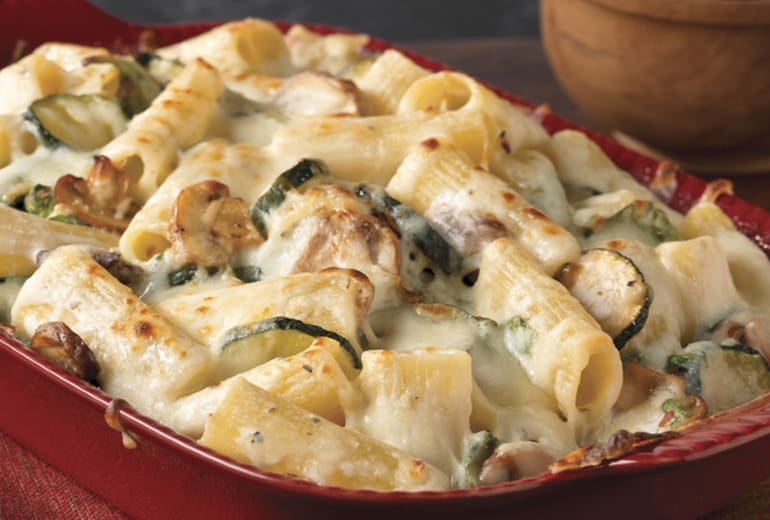 Creamy Zucchini & Spinach Rigatoni
Get 'em to say Yes! to zucchini—and spinach—with this creamy rigatoni pasta dish. Just another day in the life of a rock-star mom.
Ingredients
3 cups (1/2 of 16-oz package) rigatoni pasta, uncooked
1 teaspoon oil
1 zucchini, sliced
1/2 lb sliced fresh mushrooms
2 cloves garlic, minced
1 tablespoon flour
1/4 teaspoon each dried basil leaves, oregano leaves and crushed red pepper
1 cup fat-free reduced-sodium chicken broth
4 oz (1/2 of 8-oz pkg.) Philadelphia® Neufchatel Cheese, cubed
1 package (6 oz) baby spinach leaves
1/4 cup Kraft® Grated Parmesan Cheese
1-1/2 cups Kraft® Shredded Mozzarella Cheese with a Touch of Philadelphia®, divided
Nutrition
1 Serving (1-1/3 cup): Calories 330; Total Fat 13g (Saturated Fat 7g); Cholesterol 35mg; Sodium 460mg; Total Carbohydrate 35g, Sugar 3g, (Dietary Fiber 3g); Protein 19g
% Daily Value: Vitamin A 50%; Vitamin C 10%;
*Percent Daily Values are based on a 2,000 calorie diet.
Preparation
Heat oven to 375°F.
Cook pasta in large saucepan as directed on package, omitting salt.
Meanwhile, heat oil in large skillet on medium heat. Add zucchini, mushrooms and garlic; cook and stir 3 to 4 minutes, or until zucchini is crisp-tender. Add flour and seasonings; cook and stir 1 minute. Stir in broth; cook and stir 2 to 3 minutes, or until thickened. Add Neufchatel; cook and stir 2 to 3 minutes, or until melted.
Drain pasta; return to pan. Add zucchini mixture, spinach, Parmesan and ½ cup mozzarella; mix lightly. Spoon into 2-quart. casserole sprayed with cooking spray; top with remaining mozzarella.
Bake 10 minutes, or until mozzarella is melted.
Simple for You, Easy for Them.