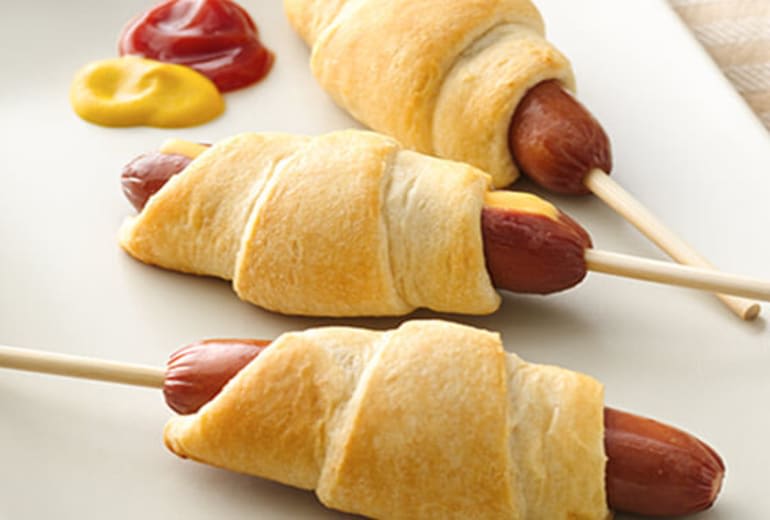 Crescent Dog on a Stick
Food on a stick is fun! Take a classic Crescent Dog — a cheesy hot dog wrapped in a Crescent — and add a wooden stick for a quick and easy meal sure to bring a smile to the table.
Ingredients
8 Oscar Mayer® hot dogs
4 slices (3/4 oz each) American cheese, each cut into 6 strips
1 can (8 oz) Pillsbury™ refrigerated crescent rolls
8 wooden corn dog sticks
Nutrition
Serving Size: 1 Sandwich
Calories 290 (Calories from Fat 200); Total Fat 23g; (Saturated Fat 9g, Trans Fat 2g); Cholesterol 35mg; Sodium 810mg; Potassium 60mg; Total Carbohydrate 13g; (Dietary Fiber 0g); Sugars 4g; Protein 9g
% Daily Value: Vitamin A 2%; Vitamin C 0%; Calcium 6%; Iron 6%
Exchanges: 1 Starch; 0 Fruit; 0 Other Carbohydrate; 0 Skim Milk; 0 Low-Fat Milk; 0 Milk; 0 Vegetable; 0 Very Lean Meat; 0 Lean Meat; 1 High-Fat Meat; 2 1/2 Fat;
*Percent Daily Values are based on a 2,000 calorie diet.
Preparation
Heat oven to 375°F. Slit hot dogs to within 1/2 inch of ends; insert 3 strips of cheese into each slit.
Separate dough into triangles. Wrap dough triangle around each hot dog. Place on ungreased cookie sheet, cheese side up.
Bake at 375°F. for 12 to 15 minutes or until golden brown.
Insert 1 stick in each crescent dog.
Recipe Tips
If using Pillsbury® Big & Flaky large refrigerated crescent dinner rolls, use large hot dogs and bake at 350°F. for 16 to 20 minutes.
Simple for You, Easy for Them.