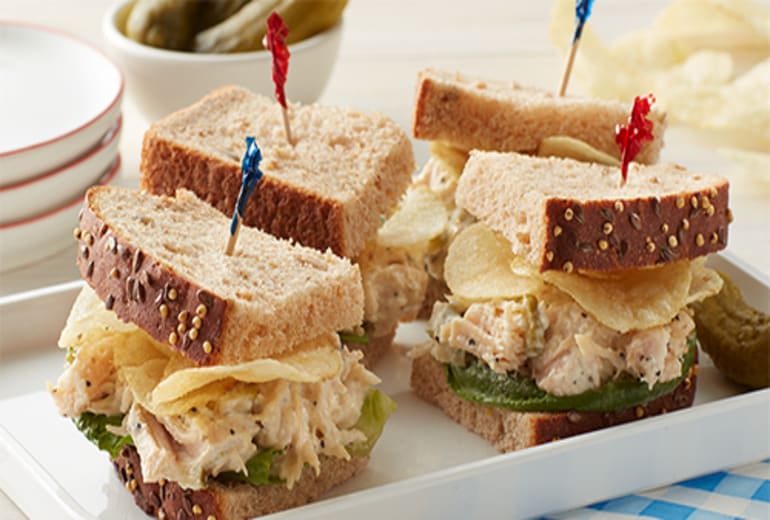 Crunchy Chicken Salad Sandwich
Get your crunch on with the easy chicken salad sandwich made with crunchy dill pickles and topped with potato chips! You can hear this sandwich coming.
Ingredients
1 can (12.5 oz) Swanson® White Premium Chunk Chicken Breast, drained
1/4 cup chopped dill pickles
2 tablespoons mayonnaise
1 teaspoon Dijon mustard
1/8 teaspoon onion powder
1/8 teaspoon pepper
4 slices Pepperidge Farm® 15 Grain bread (from 24 oz loaf)
4 leaves hearts of romaine lettuce
1 cup Lays® Brand classic potato chips (from 8 oz bag)
Preparation
In a small bowl, combine chicken, pickles, mayonnaise, mustard, onion powder and pepper; stir to completely blend. Lay out 2 slices of bread and top with lettuce, chicken salad (about 2/3 cup each) and chips. Top with remaining bread slices and cut in half. Serve with additional chips as desired.
Recipe Tips
Want more toppings? Add sliced tomato or thinly sliced onion as desired. If you are packing this sandwich to go, pack the chips separately and add them just before eating.
Simple for You, Easy for Them.