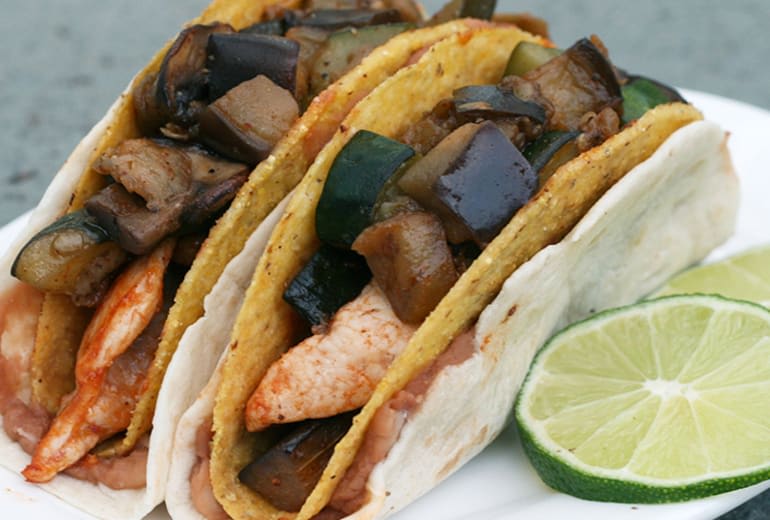 Double Decker Veggie Topped Turkey Tacos
Use a variety of farm-fresh vegetables to top these flavorful, turkey tacos.
Ingredients
1 ½ lb turkey breast chops, cut into 1/2 inch wide strips
2 tablespoons raspberry hot sauce
1 jalapeño, sliced
1 onion, halved and sliced
1/4 cup Old El Paso™ Taco Sauce
2 tablespoons canola oil, divided use
1 eggplant, diced
2 zucchini, diced
6 oz crimini mushrooms, diced
1/2 teaspoon chili powder
3 tablespoons lime juice
2 14-oz Old El Paso™ hard & soft taco dinner kit
1 cup Old El Paso™ Refried Beans with Green Chiles
1/2 cup mixed Kraft® shredded Mexican cheese
Preparation
Place the turkey, hot sauce, jalapeno and onion in a resealable bag or marinating container. Refrigerate for at least 1 hour and up to overnight. Toss with taco sauce. Heat one tablespoon oil in a large skillet. Add the contents of the bag to the skillet. Sauté until the turkey is cooked through.
In a separate large skillet, heat the remaining oil. Sauté the eggplant, zucchini and mushrooms until soft. Sprinkle with chili powder and lime juice halfway through the cooking process.
Prepare the hard taco shells and soft tortillas according to package instructions.
Meanwhile, heat the beans in a small pan. Spread a thin layer of beans on each soft taco to the edges. Sprinkle with 2 tablespoons of cheese. Fold the soft tortillas over each hard taco shell, bean-side up. Add a couple of pieces of turkey to each taco and then top with vegetable mixture. Serve immediately.
Recipe Tips
Look for eggplants that are heavy for their size, firm to the touch and featuring unblemished skin.
Look for raspberry hot sauce and other exotic varieties at your local farmers market.
Simple for You, Easy for Them.