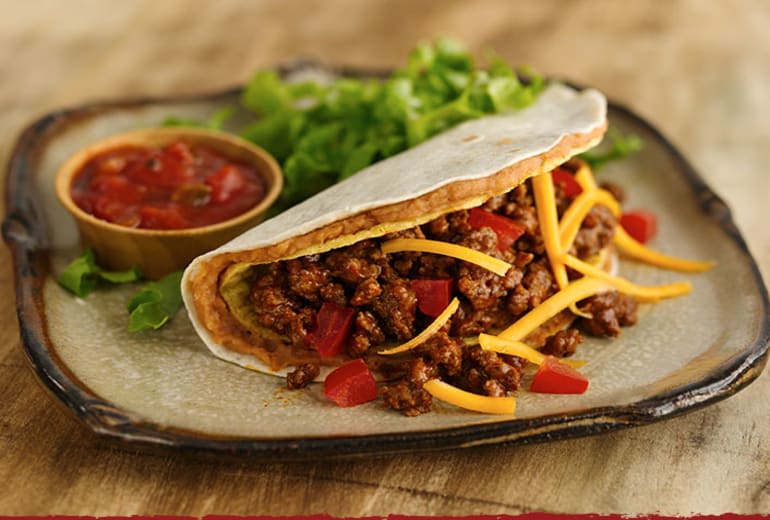 Double Layer Tacos
An Old El Paso™ Favorite Recipe! Layered taco shells and tortillas create the "double" in beef and bean-stuffed tacos.
Ingredients
1 lb ground beef
1 package (1 oz) Old El Paso™ taco seasoning mix
¾ cup water
1 package (4.6 oz) Old El Paso™ taco shells
12 Old El Paso™ flour tortillas for soft tacos & fajitas (6 inch, from two 8.2-oz packages)
1 can (16 oz) Old El Paso™ refried beans, heated
¾ cup salsa (any variety)
1 ½ cups shredded lettuce
1 cup shredded Monterey Jack cheese (4 oz)
Nutrition
1 Taco: Calories 270 (Calories from Fat 110); Total Fat 12g (Saturated Fat 4 1/2g, Trans Fat 1g); Cholesterol 30mg; Sodium 870mg; Total Carbohydrate 29g (Dietary Fiber 2g, Sugars 1g); Protein 13g
% Daily Value: Vitamin A 4%; Vitamin C 0%; Calcium 15%; Iron 15%
Exchanges: 1 1/2 Starch, 0 Fruit, 1/2 Other Carbohydrate, 0 Skim Milk, 0 Low-Fat Milk, 0 Milk, 0 Vegetable, 0 Very Lean Meat, 0 Lean Meat, 0 High-Fat Meat, 1 Fat,
Carbohydrate Choices: 2
*Percent Daily Values are based on a 2,000 calorie diet.
Preparation
In 10-in skillet, cook beef over medium-high heat 5 to 7 minutes, stirring occasionally, until brown; drain. Stir in taco seasoning mix and water. Cook over medium heat 10 to 15 minutes, stirring occasionally.
Heat taco shells and flour tortillas as directed on packages.
Spread 2 tablespoons heated refried beans on each flour tortilla. Place hard taco shell on center of flour tortilla and gently fold tortilla sides up to match taco shell sides.
Spoon 2 tablespoons beef mixture into each double-layer taco shell. Top with salsa, lettuce and cheese. Serve immediately.
Recipe Tips
Cool off with a dessert of fresh melon slices and a scoop on mango sorbet.
Simple for You, Easy for Them.