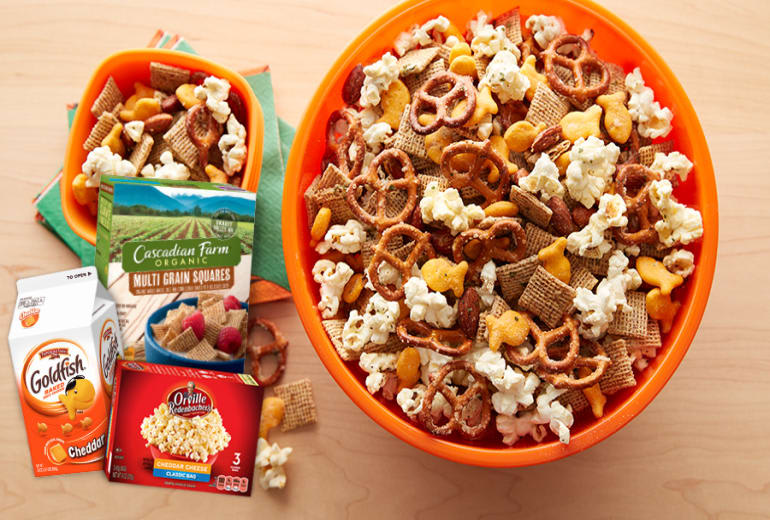 Dream Team Snack Mix
Enjoy this tasty ranch-flavored snack mix for any game-day or party gathering.
Ingredients
1 box (12.3 oz) Cascadian Farm™ organic multi grain squares cereal (about 6 cups)
2 cups Goldfish® baked Cheddar snack crackers (from 30-oz box)
2 cups bite-size pretzel twists
1/4 cup butter
1 package (1 oz) ranch salad dressing & seasoning mix
5 cups popped Orville Redenbacher's® Gourmet® Buttered Pop Up Bowl Popcorn (from 82.3-gram bag)
1 cup roasted salted almonds
Nutrition
<!-- 1 Serving: Calories X; Calories from Fat X; Total Fat Xg; Saturated Fat Xg; Trans Fat Xg; Cholesterol Xmg; Sodium Xmg; Total Carbohydrate Xg; Dietary Fiber Xg; Sugars Xg; Protein Xg % Daily Value: Vitamin A X%; Vitamin C X%; Calcium X%; Iron X% Exchanges: X Starch; X Fruit; X Other Carbohydrate; X Skim Milk; X Low-Fat Milk; X Milk; X Vegetable; X Very Lean Meat; X Lean Meat; X High-Fat Meat; X Fat; Carbohydrate Choices: X *Percent Daily Values are based on a 2,000 calorie diet. -->
Preparation
In large microwavable bowl, mix cereal, crackers and pretzels.
In small microwavable bowl, microwave butter uncovered on High 30 to 40 seconds or until melted. Pour over cereal mixture; stir until evenly coated. Stir in ranch dressing mix and popcorn until evenly coated.
Microwave uncovered on High 3 minutes, stirring every minute. Stir in almonds. Spread on waxed paper or cooking parchment paper to cool, about 15 minutes. Store in airtight container.
Recipe Tips
Store this easy snack mix up to 2 weeks at room temperature in an airtight container.
Divide this tasty snack mix among several snack-size resealable food-storage plastic bags for a snack on the go!
Simple for You, Easy for Them.