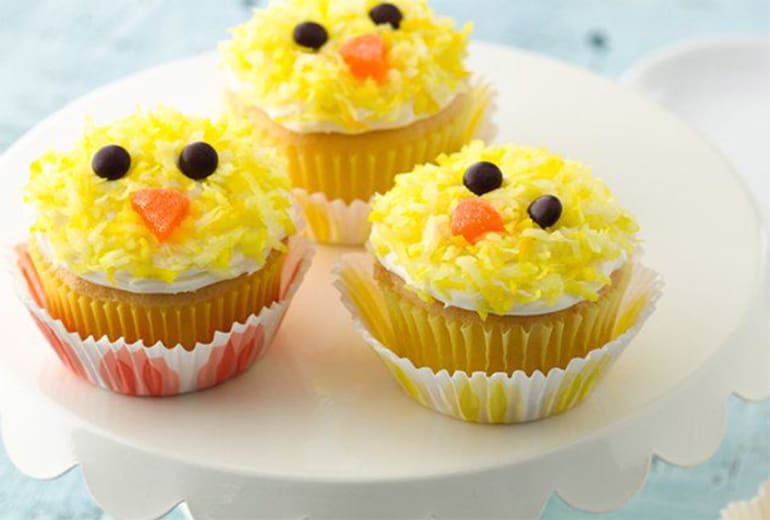 Easter Chicks Cupcakes
Tinted coconut and candies are the simple extras that make sweet chick cupcakes.
Ingredients
1 box Betty Crocker™ Favorites yellow or devil's food cake mix, water, vegetable oil and eggs called for on cake mix box
Frosting and Decorations
2 ½ cups shredded coconut
Yellow food color
1 container Betty Crocker™ Rich & Creamy vanilla frosting
48 brown miniature candy-coated chocolate baking bits
24 small orange gumdrops
Nutrition
Serving Size: 1 Cupcake (Cake and Frosting Only) Calories260 Calories from Fat110 Total Fat12g Saturated Fat5g Trans Fat1g Cholesterol25mg Sodium200mg Total Carbohydrate36g Dietary Fiber0g Sugars24g Protein1g
% Daily Value*: Vitamin A0% Vitamin C0% Calcium4% Iron4%
Exchanges: 1/2 Starch; 0 Fruit; 2 Other Carbohydrate; 0 Skim Milk; 0 Low-Fat Milk; 0 Milk; 0 Vegetable; 0 Very Lean Meat; 0 Lean Meat; 0 High-Fat Meat; 2 1/2 Fat
Carbohydrate Choice: 2 1/2
*Percent Daily Values are based on a 2,000 calorie diet.
Preparation
Heat oven to 350°F (325°F for dark or nonstick pans). Place paper baking cup in each of 24 regular-size muffin cups.
Make and bake cake mix as directed on box for 24 cupcakes. Cool in pans 10 minutes; remove from pans to cooling rack. Cool completely, about 30 minutes.
Place coconut in resealable food-storage plastic bag. Add about 8 drops yellow food color; seal bag and shake to mix. Frost cupcakes with frosting. Top with yellow coconut. For eyes, add brown baking bits. Cut orange gumdrops to look like beaks; place on cupcakes. Store loosely covered.
Recipe Tips
An easy way to fill baking cups is to use an ice cream scoop. Use one that measures out almost 1/4 cup batter if filling regular-size cups. Use one that measures out 1 heaping tablespoon batter if filling mini cups. If you have only one pan and a recipe calls for more cupcakes than your pan will make, cover and refrigerate the rest of the batter while baking the first batch. Cool the pan about 15 minutes, then bake the rest of the batter, adding 1 to 2 minutes to the bake time.
Simple for You, Easy for Them.