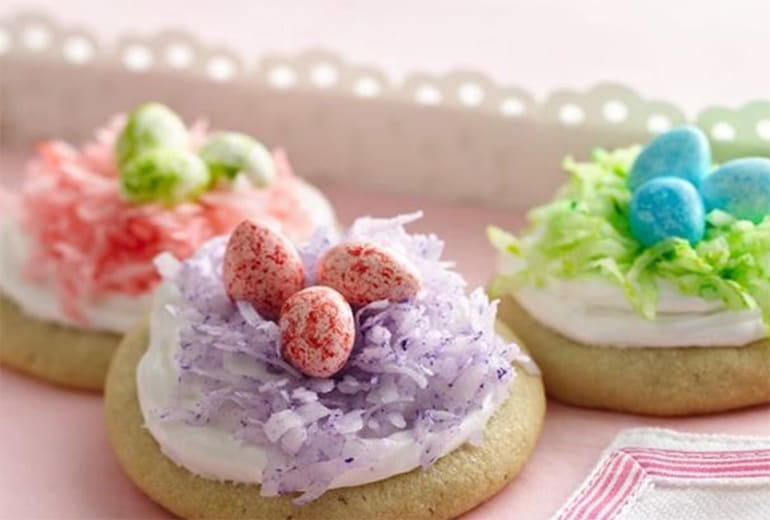 Easter Nest Cookies
Wow! Sweet little cookies are made super simple with the help of cookie mix and jelly beans.
Ingredients
1 pouch (1 lb 1.5 oz) Betty Crocker™ sugar cookie mix
1 tablespoon Gold Medal™ all-purpose flour
1/3 cup butter or margarine, softened
1 egg
1 container (12 oz) Betty Crocker™ Whipped fluffy white frosting
1 cup flaked coconut
Food color
Jelly beans
Nutrition
Serving Size: 1 Cookie Calories150 Calories from Fat60 Total Fat7g Saturated Fat2 1/2g Trans Fat0g Cholesterol20mg Sodium80mg Total Carbohydrate22g Dietary Fiber0g Sugars14g Protein1g
% Daily Value*: Vitamin A4% Vitamin C0% Calcium0% Iron2%
Exchanges: 1/2 Starch; 0 Fruit; 1 Other Carbohydrate; 0 Skim Milk; 0 Low-Fat Milk; 0 Milk; 0 Vegetable; 0 Very Lean Meat; 0 Lean Meat; 0 High-Fat Meat; 1 Fat
Carbohydrate Choice: 1 1/2
*Percent Daily Values are based on a 2,000 calorie diet.
Preparation
Heat oven to 375° F. In medium bowl, stir cookie mix, flour, butter and egg until dough forms.
Shape dough into 24 (2-inch) balls. Place 1 inch apart on ungreased cookie sheets.
Bake 7 to 9 minutes or until edges are light golden brown. Cool 1 minute; remove to cooling rack. Cool completely, about 15 minutes.
Frost cookies. Add coconut to a 1-quart resealable food storage plastic bag. Add 2 to 3 drops food color, shaking bag to blend color. It may be necessary to add 1 to 2 teaspoons water to help disperse the color evenly or additional food color until desired color is reached.
Sprinkle about 1 teaspoon coconut onto each cookie. Top with jelly beans.
Recipe Tips
For even baking, make sure cookies are of the same shape and size.
Simple for You, Easy for Them.