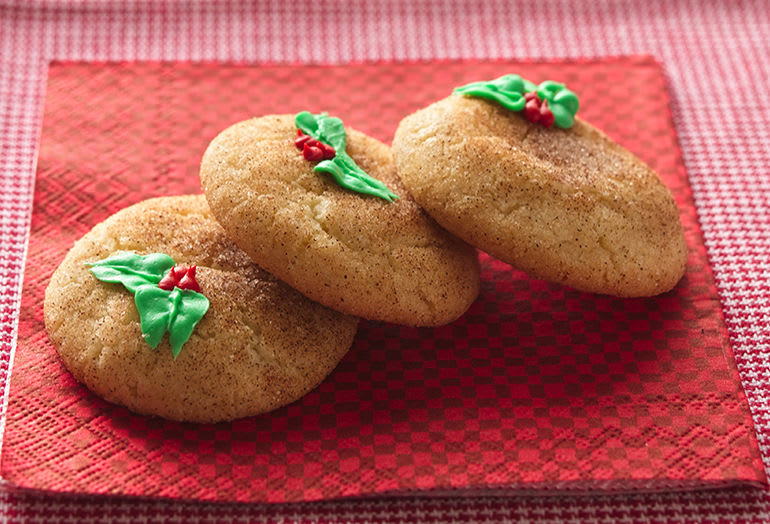 Easy Christmas Snickerdoodles
Love cinnamon and sugar? You'll want to try this easy version of a classic cinnamon and sugar cookie.
Ingredients
1 pouch (1 lb 1.5 oz) Betty Crocker™ sugar cookie mix
2 tablespoons Gold Medal™ all-purpose flour
1/3 cup butter or margarine, softened
1 egg
1/4 cup sugar
1 teaspoon ground cinnamon
Betty Crocker™ red and green decorating icings
Nutrition
1 Cookie Calories 80 (Calories from Fat 30); Total Fat 3g (Saturated Fat 2g, Trans Fat 1g); Cholesterol 10mg; Sodium 45mg; Total Carbohydrate 13g (Dietary Fiber 0g, Sugars 8g); Protein 0g
% Daily Value: Vitamin A 0%; Vitamin C 0%; Calcium 0%; Iron 0%;
Exchanges: 1 Other Carbohydrate, 1/2 Fat
Carbohydrate Choice: 1
Preparation
Heat oven to 375°F. In large bowl, stir cookie mix, flour, butter and egg until dough forms.
Shape dough into 1-inch balls. In small bowl, mix sugar and cinnamon. Roll balls in sugar-cinnamon mixture. Place 2 inches apart on ungreased cookie sheets.
Bake 11 to 12 minutes or until set. Cool 1 minute. Remove from cookie sheets. If desired, roll tops of warm cookies in additional sugar-cinnamon mixture. Cool completely, about 20 minutes. Decorate as desired using icing.
Recipe Tips
Did You Know?: Cookie dough can be covered and refrigerated up to 24 hours before baking. If it's too firm, let stand at room temperature 30 minutes.
Simple for You, Easy for Them.