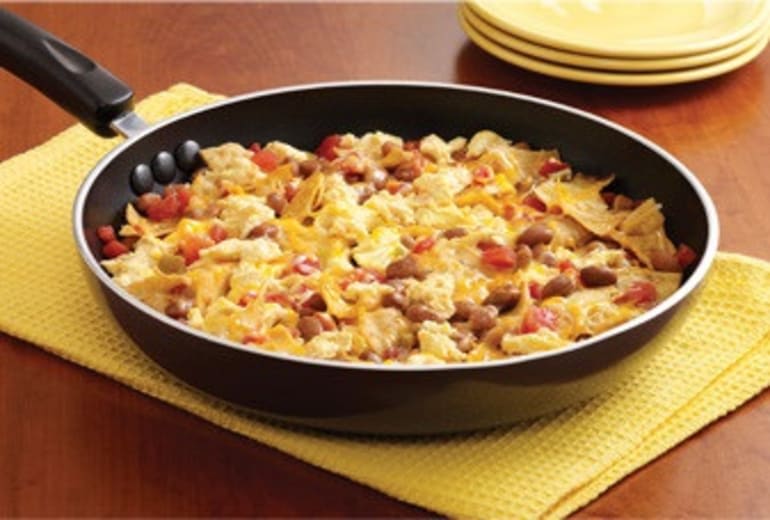 Easy Mexican Egg Scramble
Ingredients
PAM® Original No-Stick Cooking Spray
4 corn tortillas (6 inch) cut into bite-size pieces
1 can (15 oz each) Ranch Style® Beans, drained
1 can (10 oz each) Ro*Tel® Original Diced Tomatoes & Green Chilies, drained
1 cup Egg Beaters® Original
1/2 cup KRAFT™ Natural Shredded Reduced Fat Colby Jack cheese
Nutrition
Serving Size: 4 servings (about 1 cup each) Calories 228; Total Fat 5g (Saturated Fat 3g); Cholesterol 8mg; Sodium740; Carbohydrate 28g; (Dietary Fiber 6g, Sugars 3g); Protein 16g; % Daily Values*: Vitamin A 21%; Vitamin C 6%; Calcium 26%; Iron 14%
*Percent Daily Values are based on a 2,000-calorie diet.
Preparation
Spray large nonstick skillet with cooking spray; heat over medium-high heat. Add tortillas and beans; cook 2 to 3 minutes or until hot. Add un-drained tomatoes; stir to combine.
Push bean mixture to one side of skillet. Add Egg Beaters; cook without stirring until edges and bottom begins to set. Gently turn to scramble; continue cooking until set. Combine with bean mixture; top with cheese.
Simple for You, Easy for Them.