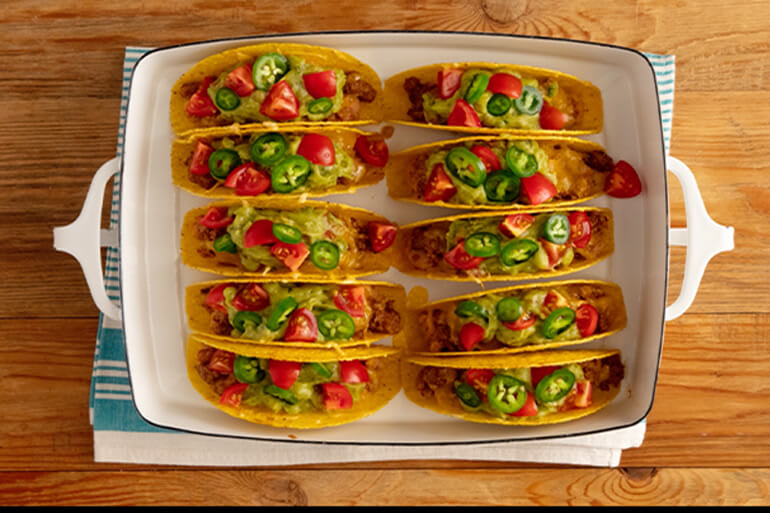 Easy Oven-Baked Beef Tacos
Easy Oven-Baked Beef Tacos aren't just super simple to make—they're also perfect for serving a crowd or hosting family Mexican night! Stuffed with seasoned ground beef, refried beans, shredded cheddar cheese and classic fresh taco toppings, these oven-baked ground beef tacos make an unbeatable meal even picky eaters can't resist.
Skip to Recipe Video
Ingredients
1 package (4.7 oz) Old El Paso™ Stand 'N Stuff™ taco shells
1 lb ground beef
1 medium chopped onion (1/2 cup)
1 package (1 oz) Old El Paso™ original taco seasoning mix
1/3 cup water
1 can (16 oz) Old El Paso™ refried beans
1 1/4 cups shredded Cheddar cheese (5 oz)
SERVE WITH, IF DESIRED
Shredded lettuce
Chopped tomato
Sliced jalapeño chiles
Chopped red onion
Lime wedges
Cilantro leaves
Salsa
Guacamole
Sour cream
Nutrition
1 Taco Calories 250 (Calories from Fat 120);  Total Fat 14g (Saturated Fat 8g ,Trans Fat 0g);  Cholesterol 40mg;  Sodium 500mg;  Potassium 105mg;  Total Carbohydrate 16g (Dietary Fiber 2g ,Sugars 0g);  Protein 14g 
% Daily Value: Vitamin A 6%;  Vitamin C 0%;  Calcium 10%;  Iron 10% 
Exchanges: 1 Starch;  1/2 High-Fat Meat;  1 Fat 
Carbohydrate Choice: 1 
*Percent Daily Values are based on a 2,000 calorie diet 
Preparation
Heat oven to 400°F. Spray bottom of 13x9-inch (3-quart) baking dish with cooking spray. Place taco shells standing up and together in dish; set aside.
In 10-inch nonstick skillet, cook beef and onion over medium-high heat 5 to 7 minutes, stirring frequently, until beef is thoroughly cooked; drain. Stir in taco seasoning mix and water; heat to boiling. Reduce heat; simmer uncovered 2 to 3 minutes, stirring frequently, until mixture has thickened. Remove from heat.
To assemble, spread about 2 tablespoons refried beans in bottom of each shell. Top each with heaping 1/4 cup beef mixture and 2 tablespoons shredded cheese. Bake 5 to 7 minutes or until cheese is melted. Top with remaining ingredients, if desired.
Recipe Tips
Want to make it bold? Try other varieties of Old El Paso™ Stand 'n Stuff Taco Shells, like Bold Ranch, Bold Takis® Fuego® or Bold Nacho Cheese.
Serve your Easy Oven-Baked Beef Tacos with a side of your favorite rice, such as cilantro-lime rice. To make, simply cook rice as desired before stirring in fresh cilantro leaves and freshly squeezed lime juice with a dash of salt.
Like a little heat? Try substituting shredded pepper Jack cheese for the cheddar, or serve with your favorite hot sauce.
Recipe Video
Easy Oven-Baked Beef Tacos
Simple for You, Easy for Them.