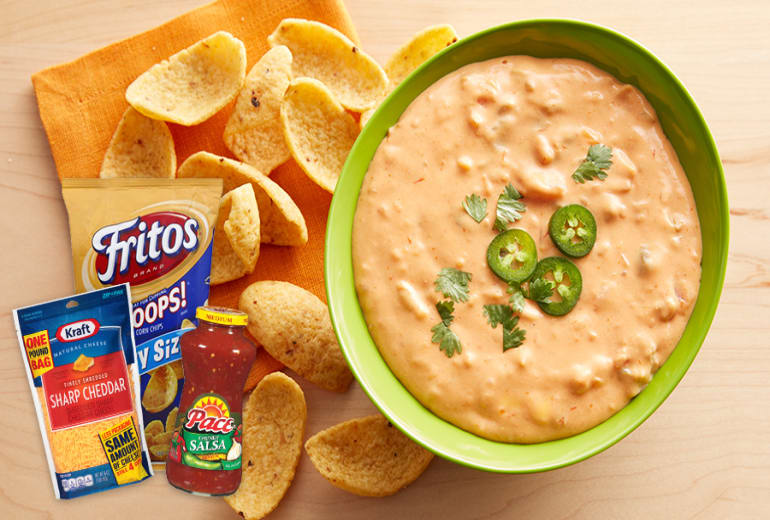 Easy Queso Dip
This warm and cheesy queso dip pairs well with corn chips.
Perfect dip for those game-day parties!
Ingredients
1 package (8 oz) cream cheese, softened, cut into 2-inch cubes
2 cups KRAFT Shredded Cheddar Cheese (8 oz)
1 1/2 cups Pace® chunky salsa (from 24-oz jar)
1 can (4.5 oz) Old El Paso™ chopped green chiles
1 bag (18 oz) FRITOS® SCOOPS!® Corn Chips, as desired
Nutrition
<!-- 1 Serving: Calories X; Calories from Fat X; Total Fat Xg; Saturated Fat Xg; Trans Fat Xg; Cholesterol Xmg; Sodium Xmg; Total Carbohydrate Xg; Dietary Fiber Xg; Sugars Xg; Protein Xg % Daily Value: Vitamin A X%; Vitamin C X%; Calcium X%; Iron X% Exchanges: X Starch; X Fruit; X Other Carbohydrate; X Skim Milk; X Low-Fat Milk; X Milk; X Vegetable; X Very Lean Meat; X Lean Meat; X High-Fat Meat; X Fat; Carbohydrate Choices: X *Percent Daily Values are based on a 2,000 calorie diet. -->
Preparation
In large microwavable bowl, mix all ingredients except corn chips.
Microwave mixture uncovered on High 4 to 6 minutes, stirring with whisk every 2 minutes, until cheese is melted and mixture is thoroughly heated. Serve warm with corn chips.
Recipe Tips
For a spicier dip, add 3 tablespoons chopped fresh jalapeño chile.
Garnish with chopped fresh cilantro leaves.
Simple for You, Easy for Them.