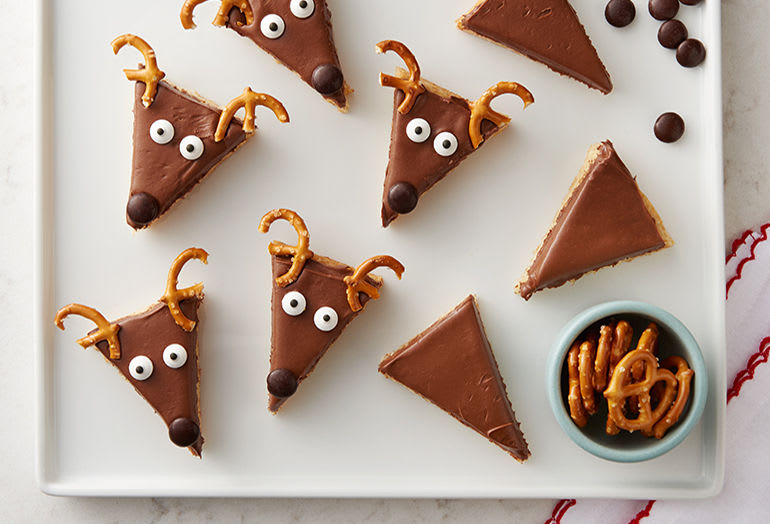 Easy Reindeer Cookie Bars
These soft and sweet reindeer treats are cut out to be the cutest cookies on your tray! Easy enough that anyone can get in on the baking and decorating fun, and so delicious that there'll never be leftovers.
Ingredients
1 pouch (17.5 oz) Betty Crocker™ sugar cookie mix
1/2 cup butter, softened
4 oz (half of 8-oz package) cream cheese, softened
1 egg
1 container Betty Crocker™ Rich & Creamy chocolate frosting
27 miniature pretzel twists, broken in half
54 Betty Crocker™ Candy Shop candy eyeballs
27 brown M&M's® milk chocolate candies
Nutrition
1 Cookie Bar Calories 170 (Calories from Fat 70); Total Fat 8g (Saturated Fat 4.5g, Trans Fat 0g); Cholesterol 20mg; Sodium 140mg; Total Carbohydrate 24g (Dietary Fiber 0g, Sugars 16g); Protein 1g
% Daily Value: Vitamin A 2%; Vitamin C 0%; Calcium 0%; Iron 2%;
Exchanges: 1/2 Starch, 1 Other Carbohydrate, 1 1/2 Fat
Carbohydrate Choice: 1.5
Need help?
To create a different cute look for the reindeer, try pecan halves, cut lengthwise, in place of broken pretzel twists for antlers.
To easily line bottom of pan, tip upside down, and form foil around bottom and sides. Flip pan over, and place foil insert inside pan for a perfect fit!
Preparation
Heat oven to 350°F. Line 13x9-inch pan with foil, leaving foil overhanging at 2 opposite sides of pan; spray with cooking spray.
In large bowl, mix cookie mix, softened butter, cream cheese and egg with spoon until soft dough forms. Spread dough in bottom of pan. Bake 19 to 23 minutes or until golden brown. Cool completely on cooling rack, about 1 hour.
Remove bars from pan by lifting foil; peel foil away. Spread frosting over top. Cut into 27 triangles as follows: Using sharp knife, cut into 3 horizontal rows. Cut each row into 9 triangles so each triangle has about a 2-inch wide base, cleaning knife with paper towel after each cut to keep frosting clean of crumbs. (See diagram below.) Set aside end pieces for snacking.
For each reindeer: Press 2 halved pretzels on top corners of cookie triangle for antlers, 2 candy eyeballs in center for eyes, 1 brown candy on tip of triangle for nose (use photo as guide). Repeat with remaining cookie triangles. Store covered in airtight container in single layer.
Recipe Tips
Trademarks referred to herein are the properties of their respective owners.
Simple for You, Easy for Them.