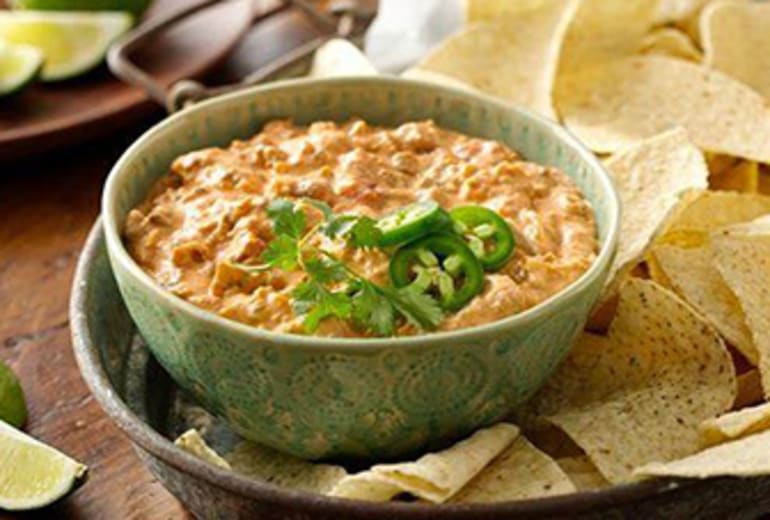 Easy Taco Queso Dip
Ingredients
1 lb lean (at least 80%) ground beef
1 package (1 oz) Old El PasoTM taco seasoning mix
1 package (8 oz) plus ½ package (4 oz) cream cheese, cut into 2-inch cubes
1½ cup chunky salsa (from 15.5-oz jar)
2 cans (4.5 oz each) Old El PasoTM chopped green chiles
2 cups shredded Cheddar cheese (8oz).
Make it FRESH toppings, as desired
Tortilla chips, as desired
Nutrition
This quick and easy dip will be your family's new favorite with cheesy goodness, taco meat and salsa.
1 serving Calories 70 (Calories from Fat 45), Total Fat 5g (Saturated Fat 3g, Trans Fat 0g), Cholesterol 20mg, Sodium 180mg, Total Carbohydrate 2g (Dietary Fiber 0g, Sugars 0g), Protein 3g; % Daily Value*: Vitamin A 4%; Vitamin C 0%; Calcium 4%; Iron 0%; Exchanges: 0 Starch; 0 Fruit; ½ Other Carbohydrate; 0 Skim Milk; 0 Low-Fat Milk; 0 Milk; 0 Vegetable; 0 Very Lean Meat; 0 Lean Meat; 0 High-Fat Meat; ½ Fat; Carbohydrate Choices: 0
*Percent Daily Values are based on a 2,000 calorie diet
Preparation
In 10-inch nonstick skillet, cook beef over medium-high heat 5 to 7 minutes, stirring occasionally, until thoroughly cooked; drain. Sprinkle with taco seasoning mix; stir.
In 4-quart saucepan, heat cream cheese and salsa over medium heat, stirring occasionally, 4 to 5 minutes or until mixture is lump-free. Stir in chiles, cheese and beef; continue cooking about 5 minutes, stirring occasionally, until cheese is melted and mixture is hot. Serve immediately with Make it FRESH toppings and chips.
Recipe Tips
Ideas for Make it FRESH toppings: diced tomatoes, green onion, fresh cilantro leaves and lime wedges.
Use Mexican blend or Colby Jack cheese in place of the Cheddar.
Simple for You, Easy for Them.